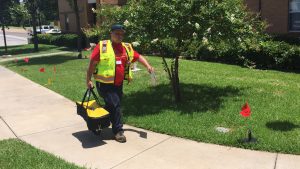 IBEW 1245 members from PG&E's Locate & Mark team made a strong showing as first-time competitors in the 15th Annual International Utility Locate Rodeo, which took place June 23-25 in Dallas, TX.
The 1245/PG&E team consisted of Trevor Robertson (Richmond) and Wendell Brown (Oakland) who completed in the Gas Division, as well as Shane Keyser (Redding) and Efrain Nava (Merced) who competed in the Power Division. The four team members secured their spots by placing in the top at the 1245/PG&E qualifier event, which took place earlier this year in conjunction with the 1245/PG&E Gas Rodeo.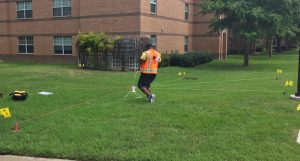 The 1245/PG&E team faced off against 77 other competitors from 17 different states representing 28 different companies. Each competitor was given three separate locates within their area of expertise, and were scored both on accuracy and on time to complete. All competitors were also required to do the "Locate from Hell" where they were given three minutes to locate and mark over two wheels. Most did not complete this extremely challenging event.
Despite the 95 degree weather and high humidity, the four members of the 1245/PG&E team competed solidly in their respective events and gained respect of their peers for their quality locates. Local 1245 member Efrain Nava placed third overall in the Power Division, which is truly remarkable given the fact that it was his first time competing in an International Rodeo, and he was up against many skilled and experienced competitors. It was a real surprise to finish in the top three the first year out.
Congratulations to Efrain Nava and all of the other competitors!
–Lou Mennel and Bryan Carroll, IBEW 1245 Business Reps