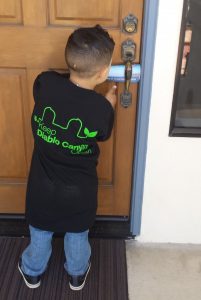 Dozens of union members, representing IBEW 1245, IBEW 639 and Laborers 220, along with representatives from Californians for Nuclear Green Power, Save Diablo Canyon Coalition and other interested local residents, came together in San Luis Obispo on April 30 to help spread the word about the importance of keeping the Diablo Canyon Power Plant open.
The neighborhood canvass event was hosted by IBEW 639 Business Manager Mark Simonin, who welcomed the group to his Hall and then introduced two important supporters, County Supervisor Adam Hill and candidate for Assembly, Dawn Ortiz-Legg.
Supervisor Hill, who represents the District where the Diablo Canyon Power Plant is located, enthusiastically fired up the group by stating, "I will do everything I can to keep the Plant open – I've got your back!"
Dawn Ortiz-Legg also inspired the group to walk by saying, "Diablo Canyon is so valuable to the area and the state as a source of carbon-free power and thousands of jobs.  But many people just don't know so we – YOU – have to educate them, and I am very happy to be here and help do so."
IBEW 1245 Business Representatives outlined the work that the enthusiastic walkers would do, knocking on doors and asking residents to help Keep Diablo Canyon Open by signing the petition.  The group covered specific threats to the plant from various state agencies and also reviewed the many benefits Diablo Canyon provides to the SLO community and California.  Business Representative Pat Duffy and 1245 member-activists Alberto Contreras and Josue Mendoza offered the group specific information on Plant safety and tax revenue for local schools and government operations.
Then everyone hit the streets.  The volunteers have collected signature from more than 200 new supporters so far, and some continued the effort for several days afterwards.
Hunter Stern is Business Representative at IBEW 1245.
Photos by Landis Marttila and Eddie Moreno