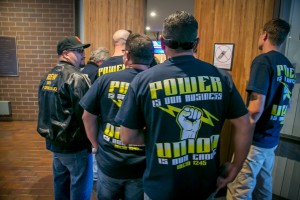 After twelve bargaining sessions to date, nearly 100 City of Vallejo members crowded the City Council chambers on April 26, to show solidarity and send a strong message demanding dignity and respect at the bargaining table.
Lead Negotiator and Assistant Business Manager Ray Thomas, supported by Business Manager Tom Dalzell, addressed the Council and Administrative Staff by reminding them that the IBEW unit has made higher overall concessions than any other bargaining  group within the City.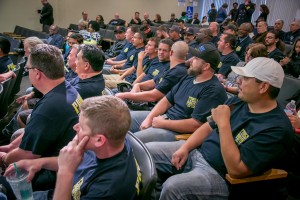 Thomas explained that these members have not received any general wage increases since 2008, have experienced two ongoing wage concessions equaling 10% annually, furlough concessions equaling 5%, and the ongoing concession of their retiree medical benefit. In total current dollars, the unit has experienced close to $25 million in concessions.
Bargaining is scheduled to resume with the City on Thursday, May 5, 2016. IBEW 1245 Bargaining Committee members include Assistant Business Manager Ray Thomas, Former IBEW 2376 President Eleanor Brown, Business Representative Jennifer Gray, and members Oni Brown, Bill Stockman, Marcus Adams, Allan Panganiban and Frank Caballero.
Jennifer Gray is an IBEW 1245 Business Rep.
Photos by John Storey