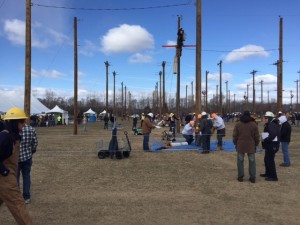 Members from IBEW Local 1245 didn't let the sub-freezing temperatures faze them as they displayed their competitive spirit and prowess at the 16th annual Public Power Lineworkers Rodeo, which took place April 1-2, in Minneapolis, Minn.
Wayne Smith from TID came in first place overall in the Apprentice division, and also placed second on the written test. SMUD apprentice Bradley Powell came in first in the Apprentice Hurtman Rescue event as well as the Apprentice Obstacle Course. Tyler Dewitt from SMUD came in third in both the Apprentice Obstacle Course and Fused Cutout Relocation events, while Aaron (Keith) Rudi from SMUD came in third in the Apprentice Pole Top Pin Insulator Change Out event.
In the Journeyman level competition, Anthony Ormonde, Dustin Krieger, and Josh Klikna from TID came in second place overall. Jimmy Boere, Matt McCurdy, and Sean Coulson from Modesto Irrigation District won the Hurtman Rescue event, and Dwight Johnson, Garrett Mcghehey, and Justin Hirschi from SMUD placed third in that same event. They also came in third in the 4kV Crossarm Change Out.
"It brings us great pride to see our members triumph when competing against the best of the best at the APPA Rodeo," said IBEW 1245 Business Manager Tom Dalzell. "Congratulations to all the competitors, and especially our award-winning apprentices from TID and SMUD, as well as our victorious journeymen teams from TID, MID and SMUD."