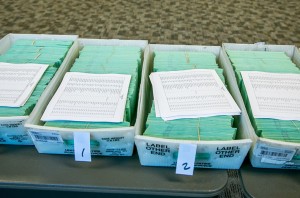 The results of the PG&E contract ratification vote are in. Just under 11,000 ballots were mailed out, and 5,896 of the ballots were returned.
Physical: Yes 1349 / No 3354
Clerical: Yes 652 / No 515
Benefits: Yes 1809 / No 3952
Since the physical and benefits agreements failed to garner enough votes, all Bargaining Committee members will head back into negotiations on Monday, Sept. 28 to work towards a new tentative agreement that will be ratified by the members.
"The Bargaining Committee worked diligently to deliver what it saw as the best and richest agreement of any unionized utility in the country," said IBEW 1245 Business Manager Tom Dalzell. "But the results of the vote demonstrate that our members believe we can do better. We hear and respect the opinions of our members, and we are ready to go back to the negotiating table and fight for an even stronger agreement. We know it won't be easy, but we're committed to securing an agreement that our members can be proud of."
Dalzell is inviting all members to take this opportunity to express their concerns over the last contract and detail the elements they believe to be critical for the next one.
Dalzell's message to members is clear:
"We want to make sure the next tentative agreement reflects the needs and wants of our members, so we encourage you to talk to your shop stewards and union reps, and attend your unit meeting in the coming weeks, so we can get a firm sense of what specific elements compel you to vote 'yes' or 'no,'" Dalzell said. "And as always, I invite you to email me at any time and share your thoughts with me directly."
About the Vote
The ratification vote was officiated by Pacific Election Services, an independent company that specializes in conducting elections for labor unions. The Ballot Committee verified the eligibility of each voter and oversaw the final count. The votes were counted at the union hall on Sept. 22, and the Ballot Committee announced the results immediately after the counting was done.