UPDATE: During its regular Council meeting of April 7, 2015, the Lompoc City Council approved the IBEW 1245 tentative agreement for a successor Memorandum of Understanding.
IBEW 1245 and the City of Lompoc had been in bargaining for approximately 4-1/2 months before reaching terms for a tentative agreement on March 16, 2015. This was bargaining for a successor agreement to Local 1245's first agreement with the City which became effective back in July 1, 2013.
On March 19, 2015, almost 50% of the 1245 members at the City of Lompoc showed up for a tentative agreement explanation and ratification vote. At the end of the night, 71 members voted to accept the tentative agreement, and 1 member voted to reject.
With membership ratification, the tentative agreement is now scheduled to be heard by the Lompoc City Council on April 7th.
The tentative agreement summary can be found here, however the highlights are as follows:
COLA: 8% net increase to all salary ranges by June 11, 2016, which includes 1% COLA retroactive to January 10, 2015, 2% COLA effective June 13, 2015, and 5% (new step "F") effective June 11, 2016.
Equity Enhancements: 2% to 10% equity increases and certification pay, in addition to COLA's, for our members employed within six separate classifications. The agreement also provides for meeting and confer over potential equity enhancements for our Fleet Mechanic membership.
Other MOU Improvements: Enhanced Overtime, Holiday, Sick Leave, and Shop Steward time off provisions.
"Local 1245's success in negotiating this tentative agreement reflects the work of the great employee representatives we had on our negotiating committee, and is also a direct result of the November 2014 Lompoc City Council election," said 1245 Business Manager Tom Dalzell.  "Led by Chief Shop Steward Jaime Tinoco, Local 1245 members at the City of Lompoc walked precincts, set up information booths, and worked tirelessly to educate the electorate that the City needed a Mayor who would protect core City services in the best interest of the citizens. We were proud to support Mayoral candidate Bob Lingl, and he was successful."
1245's negotiating committee employee representative members were Jaime Tinoco, Karen Niemi, Theresa Hernandez, Gary Silbaugh, Travis Kalin, John Daniels, Leo Ramirez and Ko Sumarayadi, along with IBEW 1245 Representatives Mark Taylor, Pat Duffy, and Ray Thomas.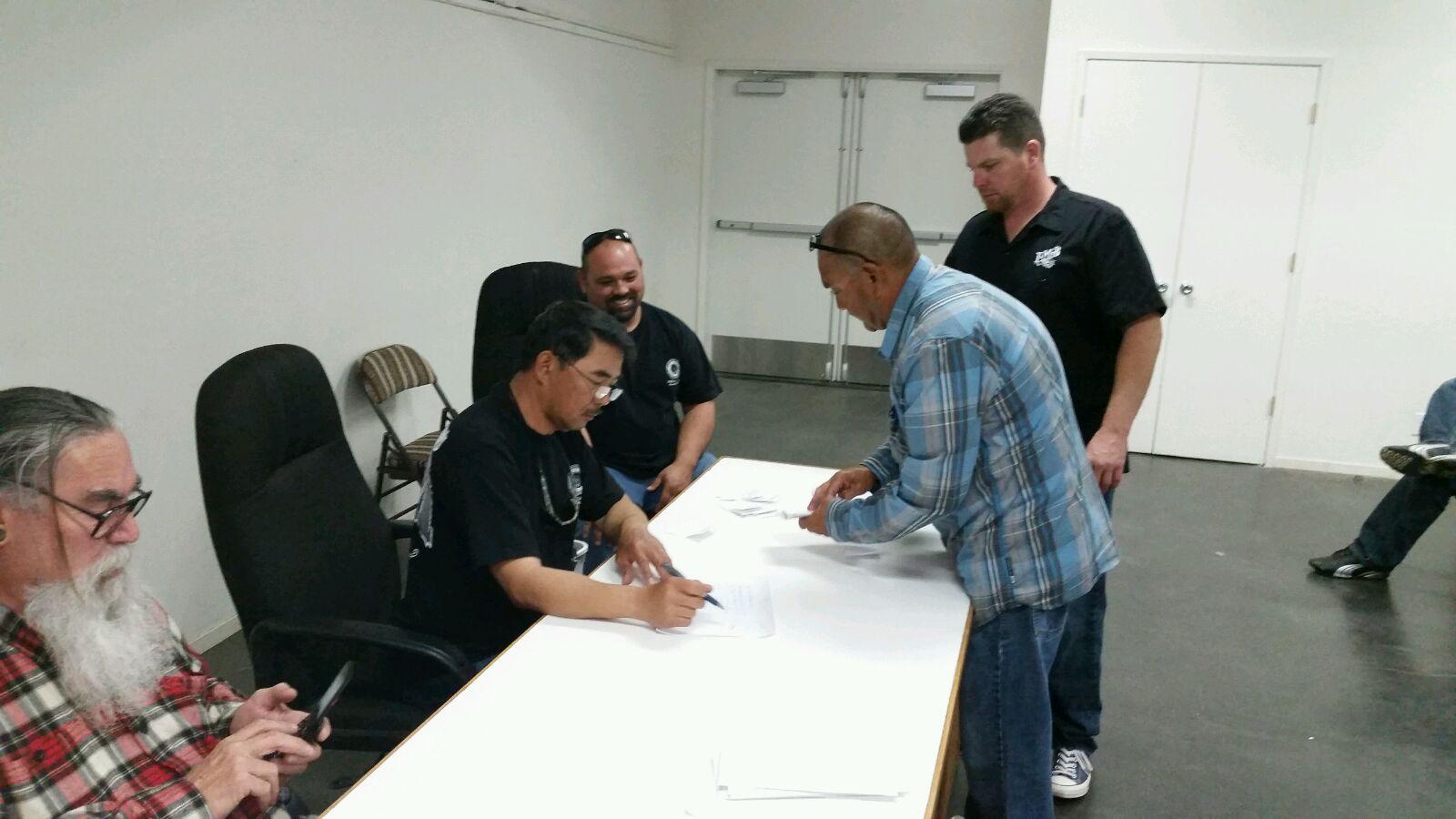 Photo of March 19th ratification (L to R): Gary Silbaugh (1218 Unit Recorder, 1245 Shop Steward and negotiating committee member), Fernando DeLosReyes (Ratification Vote Teller), Bobby Garcia (Ratification Vote Judge/1245 Shop Steward), Seth Cannaday (Ratification Vote Teller), and Jaime Tinoco (1218 Unit Chair, 1245 Chief Shop Steward and negotiating committee member).