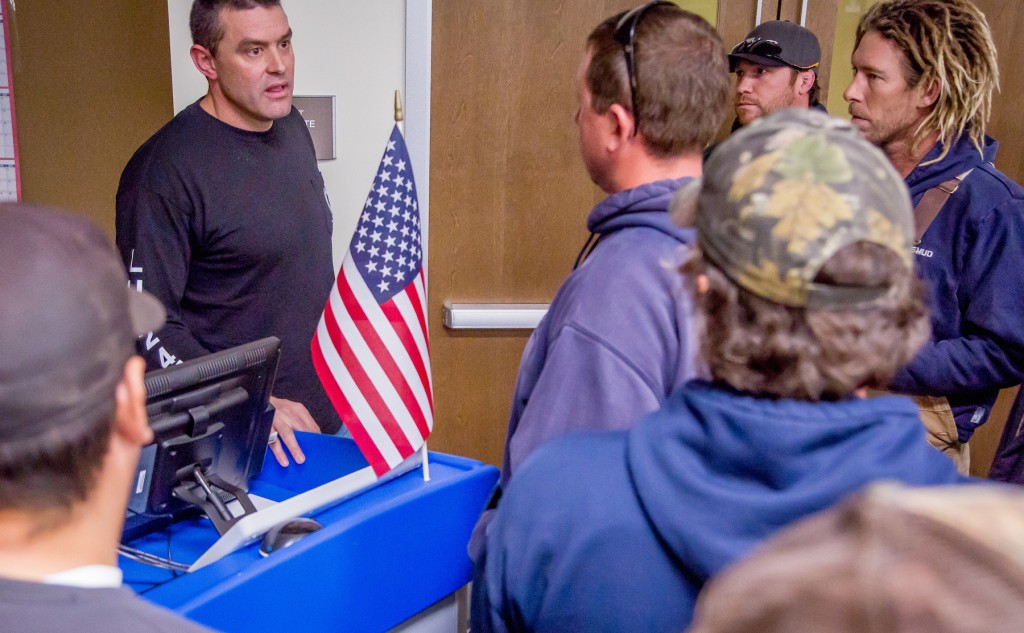 Chasing Darkness
"As linemen, whether we recognize it or not, whether we choose to celebrate it or not, we chase darkness away from humanity." That's Brady Hansen speaking. Philosopher, crusader, poet—it's not easy to pigeon-hole Hansen. Call him a lineman on a mission. As described in the last issue of Utility Reporter, that mission is to help linemen in under-developed countries "chase darkness away" without getting themselves killed in the process.
On Jan. 14 Hansen was at the Sacramento Municipal Utility District, inviting IBEW 1245 linemen to consider helping linemen in the South American nation of Suriname. He also asked the linemen to remember what it is that linemen provide to society.
"We bring that source of energy that educates, lifts, cleans, warms and cares for humanity. Whether it's making a secondary connection or working off a helicopter, that's what we do," said Hansen. "It's pretty easy to take it for granted. It's pretty easy to forget how important it is."
The people of Suriname want the life-changing benefits of electricity, and Suriname linemen are doing their best to provide it. But they need help.
"I promise you, two weeks in Suriname will change the way you see the world and change the way you view your craft," Hansen said. He has introduced modern work practices, helped launch an apprenticeship program, and persuaded many American linemen to donate usable tools and clothes to linemen in Suriname—men Hansen considers brothers.
Business Manager Tom Dalzell told the SMUD linemen that IBEW 1245 wants to send a team to Suriname to study Hansen's program and figure out how we might adapt it to assist union brothers in other South American countries. Dalzell said IBEW 1245 is also interested in seeing if the program could be adapted to include assistance to line clearance tree trimmers and natural gas workers.
Several SMUD linemen expressed interest in joining the team traveling to Suriname, and many others asked how they could donate their old tools and clothes.
SMUD Lineman Eddie Torix said Hansen's work "brings heart to the brotherhood, seeing other people struggle, and having some way to help them."
"I've talked to some other guys already about it, get a big box together for these guys (in Suriname)," said SMUD Lineman Jeremy Wright. What impressed him most about Hansen's project was simply this: "The Brotherhood. I like that. It's good stuff."
"The brotherhood, definitely," agreed SMUD Lineman Nick Valdez. "It's easy to forget … we have it better than most— it's just eye-opening." Valdez said he thought everybody at the meeting could think of something to donate—"an old belt or an old skid or an old pair of hooks or whatever you got, it's something that maybe you don't use anymore but it's still serviceable and safe."
Valdez said Hansen's presentation helped him see that linemen in other countries had the same goal as American linemen: "provide power and keep the lights on and go home safe to our families every day, that's the most important thing to everybody. To be able to help somebody to do that, no matter where they're from or who they are, that's something pretty special."