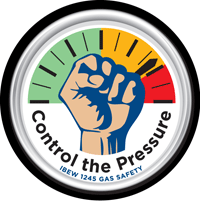 Presentations for 2015: The Control the Pressure (CTP) committee is planning to embark on a busy presentation schedule next yeat, starting with the January 9 safety summit for PG&E Gas Ops.  This event will be an opportunity for CTP members to present their new video produced by Local 1245 in conjunction with member's personal safety message. In the past the committee used a powerpoint program, but in 2015 it will be personal testimony with a safety message attached.
Safety Kick-Offs: PG&E GC will start their safety kick-offs in February and run until May, with a total of nine events throughout the Bay, Central and Southern regions.
CTP Appoints New Committee Chair: Long time Control the Pressure member Ernie Pena has been selected to be the committee chair for the year 2015. Pena, a PG&E Lead GSR, has served as the recorder since the beginning of the initiative and is a proponent of the emergency notification system for GSRs, designed to warn employees of dangerous customers, customer threats and risks in the field.