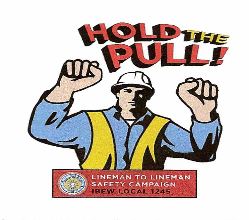 By the end of April the IBEW 1245 Hold the Pull committee will have completed 10 presentations at locations ranging from the Livermore Training Center, Northwest Lineman's College, PG&E Bay Region and Sacramento Sierra Safety Kick-Offs as well as NV Energy in Reno. The balance of the year will include another 9 presentations already scheduled and two more in the works.
The Hold the Pull peer initiative seeks to create a safer work environment by encouraging lineworkers to practice personal safety on the job and to encourage safe work practices by their peers.
The ten members of the HTP committee take time from their busy schedules as lineworkers to do this important outreach.  Their level of dedication is apparent in their action as they continue to search for other groups who would be interested in hearing their personal safety message.
Richard Lane is IBEW 1245 Business Representative for the peer safety initiative. To schedule a HTP presentation in your area, contact him at rvl5@ibew1245.com