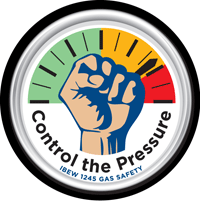 The 3rd annual Control the Pressure safety stewards' summit is set for May 7.
The peer safety group for natural gas workers has stepped up efforts to build the program. Since the beginning of this year the number of CTP safety stewards has grown by 20% with the recent recruitment of eight additional safety stewards.  The total number of participants is now 39.
When the peer group meets in May, each member will be asked to recommend two additional people who are not in their area but are dedicated to safe work practices. These individuals will be contacted by the committee as potential safety stewards. If a number of safety stewards are recruited a special training day may be scheduled to educate the new safety stewards on their duties and responsibilities.
This year the CTP group will conduct 10 presentations at the PG&E Tracy Utility Workers Academy. An interesting and challenging fact about these presentations is that the trainees are workers just starting out in the trade.
Since they are at the bottom rung of the work ladder it is sometimes assumed by themselves or others that they carry minimal responsibility on the crew. However, everyone has an equal responsibility for safety and an alert, albeit inexperienced, crewmember is a great asset when an unsafe situation exists.
That is why Control the Pressure members communicate their "personal responsibility for safety" message to new employees. The overall message is that no matter who you are and what you do, speaking up can prevent injuries and save lives.
Richard Lane is IBEW 1245 Business Representative for the peer safety initiative. To schedule a CTP presentation in your area, contact him at rvl5@ibew1245.com