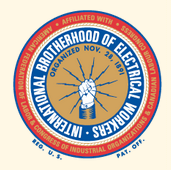 Another year has passed and I am pleased to be able to report that the combined safety initiatives of Hold the Pull, Control the Pressure and Keep the Clearance are continuing to grow and fulfill their purpose; i.e. to promote personal responsibility for safety at the workplace and actively work to protect the safety of our fellow workers.
When Business Manager Tom Dalzell and the Local 1245 Executive Board mandated the establishment of a peer to peer safety program in 2010, it was to address the alarming rate of workplace deaths and injuries among the represented line groups. As word of this effort spread, other groups asked to establish their own safety initiatives and dedicated individuals volunteered to lead the effort for their respective groups. Tom has continued to reiterate Local 1245's commitment to what he has termed a "continuously living safety initiative" and we must all stay dedicated to the task.
I want everyone to know that the following report is a reflection of the work you have done. Thank you! You will find that much has happened in 2012 and more is planned in 2013. All of the peer to peer safety initiatives are in evolution and, as you read this, if you do not think you have had an opportunity to participate or have issues and needs that require attention, please contact me (rvl5@ibew1245.com) or your peer committee member.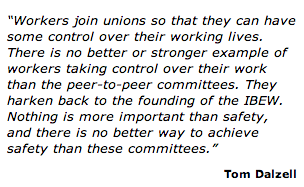 It may not be apparent to everyone involved but peer committee members and safety stewards have been called upon to intercede when Local 1245 members have been unsafe or unsafe work conditions are reported. Due to our commitment to work for change at the peer level these are not matters that are advertised openly, but safety stewards and peer committee members have responded to requests by the membership and management for their counsel and support. This is proof positive that the peer safety initiative has gained credibility and is working. For that reason it is important that you make it known that you are a safety steward. As a leader in your workplace you are a valuable asset.
Finally, this message is for safety stewards. You are our frontline troops and what you do makes the initiative work. Without you we cannot have a safety initiative. Each peer committee member has been tasked to contact you and is assigned to monitor what is happening on your property. If you do not hear from them please contact me. It is my hope that 2013 will continue to see an increase in safety awareness through membership contact by our peer committee members.
Rich Lane is a safety representative on the IBEW Local 1245 staff.