By Bob Gerstle
It's hard enough being 3000 miles away from home, working in temperatures in the 30's, not knowing exactly when you will be home. Try being a mom away from your toddlers.
Jennifer Vargas, first field clerk from Santa Rosa, is used to working out of town, having been in GC her whole career with PG&E. She has handled logistics for as many as 400 employees on storms in Grass Valley the last two winters. Being away from her children is by far the most difficult part of being in New York, according to Jennifer.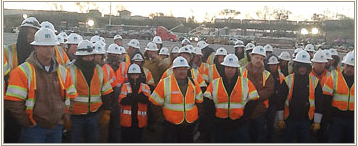 Wendy Johnson is an operating clerk from Rocklin. Wednesday she will celebrate her birthday in the command center trailer at Citi Field. Not what she would choose under normal circumstances, but she knows why she is here. "It's been a week and counting without power for these people."
Wendy and Jennifer spent the better part of the day on the phone looking for accommodations for most of the employees back here. The hotel being used has a large convention coming in and the rooms had been reserved. When linemen check into their rooms it may not even occur to them that someone spent seven hours on the phone trying to set up suitable accommodations.
Both women credit social media for making the time away from home a little more bearable. They both have been using Facebook and Tango. Wendy has read bedtime stories to her 3-year-old on Tango. Wendy and Jennifer are two of the four female IBEW members working from the Citi Field staging area. Also here are Natalia Jonas, cableman, San Francisco and Shelly Best, operating clerk, Selma.