Rich Lane to assist with safety issues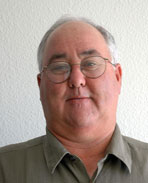 Rich Lane joined the Local 1245 staff on June 4 in a temporary assignment to assist with several safety initiatives, including the start up and running of the first-ever Local 1245 First Responder Training program. This program is designed to increase safety awareness for firefighters, police officers, public works groups and the general public.
Rich will also work with the Peer-to-Peer safety groups and assist with other Local 1245 safety initiatives.
Rich has worked for Turlock Irrigation District (TID) from 1980 to the present. He has been a maintenance worker in the heavy equipment department, apprentice lineman, lineman, lead lineman, troubleman. Most recently he has worked as a safety trainer and representative to the TID line department.
Rich was awarded the Certified Utility Safety Professional Certificate by the Utility Safety and Op's Leadership Network in 2012. He has also served on the Local 1245 Safety Committee for 3 years. He is a First Aid and CPR Trainer and has performed several other critical safety functions while working for TID.
Welcome aboard, Rich!