A viewing and funeral services have been scheduled for Mike Wigt, a top step apprentice at Turlock Irrigation District who died on June 14 while working in an electrical panel at his house.
The viewing will be June 17 from 2 to 7 p.m. Service will be June 18 at 10 a.m. The location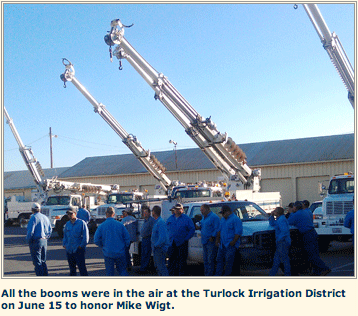 for both is Turlock Memorial, 425 N. Soderquist, Turlock.
Brother Wigt, 24, was found by his mother, who received a shock when she touched him but was not injured. Her efforts to revive him were unsuccessful.
Mike was transported to the hospital where he was pronounced dead.
Mike was born in Modesto on Jan. 12, 1987 and after high school attended Northwest Lineman College. Along with his brother John, Mike pursued a career as a lineman. He also served as a third generation fire fighter with the Westport Fire Department.
He enjoyed being outdoors, hunting, fishing, riding quads and motorcycles. He entered his truck in pulling contests and won many awards.
Local 1245 joins the line department at TID in mourning the loss of this young and active IBEW member.