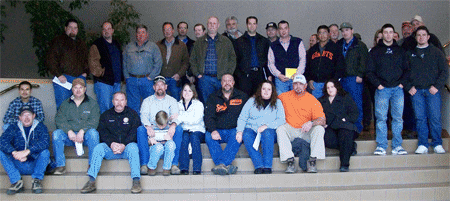 Local 1245 members at Merced Irrigation District showed up in force at the Jan. 13 meeting of the MID Board of Directors to demonstrate their unity in the face of contentious negotiations.
Over 30 employees and retirees took off personal time to attend the meeting and to discuss their issues with Local 1245 Senior Assistant Business Manager Dennis Seyfer.
Unity has certainly been required in light of the District's questionable bargaining tactics.
After some 14 bargaining sessions since last October, union negotiators reached a tentative two-year agreement with the District on Feb. 23 during negotiations at Weakley Hall—only to have the Board of Directors reject the negotiated agreement later the same day.
At their Board of Directors meeting on March 1, the Directors re-voted and accepted the terms of the Feb. 23 tentative agreement.  The union is working with the District to schedule employee explanation meetings, and the union will subsequently conduct a membership vote.
Since January, the District has acted in what the union believes to be "an adversarial and coercive manner" toward the union and its membership, said Local 1245 Assistant Business Manager Ray Thomas, who noted that the District has treated at least one member of the union's negotiating committee disparately by locking this employee out of the general office.
The District has also posted an advertisement in the local Merced newspaper seeking general laborers for hire subject to the following condition: "A LABOR DISPUTE MAY BE IN EFFECT WHEN WORK BECOMES AVAILABLE."
"The District posted this ad after the Jan. 13 Board meeting and at the same time that Merced Irrigation District's Human Resources Manager claimed that both parties were practicing good faith negotiations," Thomas said.
The District also changed sick leave utilization and SDI application requirements to be more stringent and less beneficial to employees in the IBEW bargaining unit.
The union negotiating committee consists of Charley Souders, Craig Tatum, John Ellett, and Peter Stone, along with Thomas and Business Rep. Mike Grill.