The hard-fought campaign for a new Clerical agreement at Pacific Gas & Electric came to a conclusion on Dec. 14 when mail ballots were counted at Weakley Hall in Vacaville. Out of 1102 ballots cast, 841 were in favor, 258 were opposed, and 3 were void.
The ratification percentage of valid ballots was 76%, representing a strong affirmation of the year-long campaign waged by the Clerical bargaining committee and hundreds of worksite volunteers, who successfully resisted management proposals for contracting and two-tier wages.
The agreement provides for 2% annual wage increases for the next four years. An additional 1% wage increase will be paid in the first year because the contract passed on the first ballot.
Other major provisions include:
Enhanced funeral leave
Elimination of bonus/vacation inequities for part-time employees
Improved bidding and demotion rights
A new entry level classification with automatic wage progression for Service Representatives
Preparations for negotiating a new Physical Agreement and Benefits Agreement at PG&E begins in early 2011.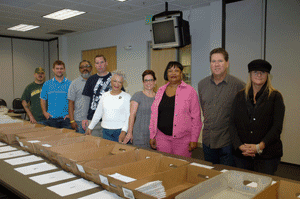 Serving on the Local 1245 Ballot Committee for the PG&E Clerical Ratification vote, counted Dec. 14 at Weakley Hall, are, from left: Dave Ryan, Brian Haupert, Pate McKissack, Michael Moore, Ruth Bailey (Judge), Jennifer Maldonado, Thelma Dixon, Kevin Krummes, Deborah Rose-Calilan.