30, 2010
IT'S UP TO US
Linemen Take Responsibility for Safety
"How many times have you looked up and said, 'I should say something right now but I assume that guy knows what he's doing?'" – Mike Gomes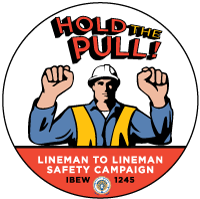 By Eric Wolfe
It's up to us.
We will have to be responsible for our own safety in the field if we want to put a stop to a rising tide of workplace accidents that have taken the lives of 10 Local 1245 linemen in the past seven years.
That was the message delivered on Sept. 1 to about five dozen linemen from various employers who gathered at Weakley Hall in Vacaville to put the finishing touches on the union's Lineman-to-Lineman safety program. The program has come together around a basic concept already familiar to most linemen: Hold the Pull.
"It means whenever something doesn't seem right, stop what you're doing, assess the situation, figure out what's wrong, and then proceed once you've determined everything's safe," explained Al Fortier, a former lineman at Alameda Municipal Power and now a Local 1245 business representative. "It empowers each and every crew member to speak up when they see something not going right and to take part in the process to make sure everything goes safely."
Fortier is one of ten Local 1245 members working on the Lineman-to-Lineman safety program, with the goal of sharing it with members in the field. They hope to get all lineworkers to hit the reset button and take a fresh look at how they conduct themselves on the job.
"This is our local, this is our work, it's our trade, it's our responsibility to make sure we do the job safe," said Fortier. "We can't point the finger at the company, we can't point the finger at the apprentices, we can't point the finger at anybody but ourselves."
The underlying concept of the Hold the Pull program, these linemen say, is that we have to take responsibility for our own safety and we have to police ourselves.
"We've got to count on ourselves, we have to look out for each other, we have to speak up when we see something not going right," Fortier said.
Difficult Circumstances
No one was disputing the difficult circumstances under which linework is performed today. Those circumstances include aging infrastructure, a disproportionately large share of new linemen, and young apprentices who belong to a "distracted" generation. Those circumstances also include companies that are trying to do more with less, and that sometimes preach safety without really understanding what it takes to make a job safe.
But none of these circumstances can be allowed to derail our own efforts to rethink safety and to take steps to better protect each other in the field.
"The point of the matter is we are here where we are now, and we have to do something about it," said Fortier.
PG&E Line Foreman Willie Bouzek put the current problem in historical perspective for the five dozen linemen gathered at Weakley Hall on Sept. 1.
"In the 1890s, one of every two linemen would lose their life on the job," Bouzek said. "There was a need for people to band together to decide about the fate of their own safety."
Out of that need, the IBEW was organized. While conditions have vastly improved over the last century, no one should be content to rest on their laurels. Resting on our laurels has given us 10 fatalities in seven years.
Tough Sell
Trying to change attitudes and behavior is a tough sell in a line of work that tends to attract physically courageous individuals with a large dose of self confidence. And the work does, in fact, require personalities strong enough to exert effective leadership, which helps explain why foreman traditionally have great authority, and why apprentices sometimes have to endure colorful descriptions of their shortcomings.
"As an apprentice I was taught to shut up and listen to my foreman," said Mike Gomes, a 10-year lineman who now runs crews at Modesto Irrigation District. "When you make journeyman level  all of a sudden you go from (being) a guy who doesn't know anything to a guy that's supposed to be teaching somebody else."
The challenge, Gomes said, is to change the culture so that it's acceptable for anyone to speak up when something doesn't look right.
"How many times have you looked up and said, 'I should say something right now but I assume that guy knows what he's doing?'" Gomes asked as a few linemen in the room nodded their heads, remembering such experiences. The responsibility to do something, Gomes said, "falls on us. As a union, as a brotherhood, this is our responsibility."
There were questions in the room about how the program would work. If a particular lineman is a chronic offender of safe work practices, for example, what action would the union take to correct the behavior? What body within the union would have authority to take action? Will employers view any such union action as interference in management's right to administer discipline? What if an over-eager apprentice invokes "hold the pull" just because he thinks he knows a better way to do the job? How do we make sure that a foreman's legitimate authority is not undermined? Will employers discipline employees who hold up a job for safety reasons?
The lineman-to-lineman working group will have these and other issues to ponder as they finalize the program and get ready to take it into the field. The group, led by Local 1245 Business Rep. Ralph Armstrong, who chairs the union's Safety Committee, includes Art Aguilar, Bob Springer, Willie Bouzek, Dane Moore, Eli Escamilla, John Kent, Mike Gomes, Richard Lane, and Tom Burke, as well as two linemen who were subsequently hired as union business representatives: Al Fortier and Mark Rolow.
"We all know this is a dangerous job," Advisory Council member and PG&E Troubleman Dan Mayo told the group. "We need to assume that we will be the next fatality or somebody on our crew will be the next fatality unless we do something today to stop that. We have to stop that from happening today, right now. We're the only ones who can do it. The company can't do that for us."