On a bright and breezy early autumn day, 125 union members, friends and family came together for IBEW 1245's annual golf tournament in Vacaville, CA.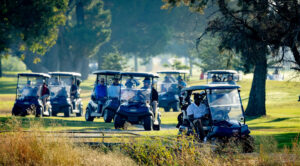 The easy-play, 18-hole event is one of Local 1245's oldest and most well-loved traditions, and members were excited for the return of this popular event. The tournament is designed for golfers of all levels, and the "best ball" format fosters a true sense of teamwork among each group.
After a rousing morning on the links, the golfers headed to the union hall for a tasty lunch, featuring two different food trucks (tacos and gyros) and refreshing ice-cold drinks. This was the first tournament since John Mendoza, the longtime chair of the golf tournament, passed away, and many of the golfers remarked on how they missed seeing Brother Mendoza and his family serving up the food at the tournament, as they had done for many years.
Local 1245 President Cecelia De La Torre opened with a moment of remembrance for Brother Mendoza, before moving on to the awards ceremony.
The room erupted in applause as the tournament winners were announced. Congrats to the winning teams of the day:
Additional recognition goes out to the men's longest drive, hit by Norman Chapin, and woman's long drive, hit by President Cecelia De La Torre.
The day concluded with the always-exciting raffle, featuring an array of prizes including a flat screen TV, tablet, VR headset, golf bags and clubs.
There was also a 50/50 charity raffle, which raised $750 for our charity PGA Hope (Helping Our Patriots Everywhere), a non-profit organization that introduces golf to veterans and Active-Duty Military to enhance their physical, mental, social and emotional well-being.
"Big thank you to the IBEW staff volunteers who were out at the course and back at the hall keeping everything running smoothly," said 1245 Senior Assistant Business Manager Bryan Carroll. "Hope to see everyone back in 2024!"
We would also like to thank this year's generous sponsors:
Par West Line Contractors, LLC
Outsource Utility Contractors Corp.
Keystone Energy Group, LLC
Veteran Power, Inc.
Liberty Electric
Ample Electric, Inc
Ferreira Power West LLC
Underground Electric Construction Co.
Henkels & McCoy West, LLC
Derek Hobbs, Inc
Alan D. Biller Associates
Canus Corp
KLE, Inc.
Baked at Grammy's (cookies)
Photos by John Storey