Putting thousands of miles of power lines underground involves a whole lot of digging. Rock, sand, granite, pavement, lava, asphalt… if you can name it, IBEW 1245 members can excavate it.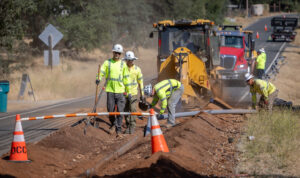 In Cottonwood, CA, the Utility Reporter visited with two IBEW 1245 civil crews from Dars Cox Construction who are supporting the undergrounding effort. One of these crews was assisting Underground Electric Construction Company with rock trenching and sawing (a necessary first step to enable conduit to be run underground), while a second crew was working on a complete undergrounding project, start to finish (awarded directly to Dars Cox). 
These IBEW members have extensive expertise in all sorts of heavy equipment, and when the Utility Reporter caught up with them, they were expertly utilizing a trencher to excavate the center of a roadway.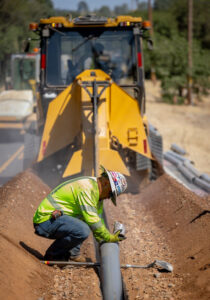 "When we're on asphalt roads, the trencher eliminates all the saw cutting," explained IBEW 1245 member Lucas Ashe, who works as a General Foreman for Dars Cox. "It helps with the conveyor on the bigger trenchers. And it loads it right into a 10-wheeler, so there's minimal cleanup."  
To fill the trench, the crew used a special piece of equipment called a slinger truck, which has conveyor belts on the inside and outside. Ashe explained why they use these remote-operated vehicles for these types of projects.  
"It's safer, cleaner, and it holds a lot more," he said. "You can backfill close to 200 feet of sand in probably five minutes or less." 
*** 
While the undergrounding project in Cottonwood is extensive, it represents just a fraction of PG&E's total undergrounding program, which aims to reduce the risk of fires in high-risk areas. 
PG&E reports that civil and electrical contractors completed around 178 miles of undergrounding last year. This year, the company is forecasted to underground several hundred more miles of power lines, and eventually plans to be undergrounding 1,000 miles of power lines a year. 
Thanks to the exceptional work by the IBEW 1245 crew, the undergrounding project in the Cottonwood area is running ahead of schedule, and is slated to be completed by the end of the year. Ashe explained that certain elements of the Cottonwood location enabled them to exceed expectations.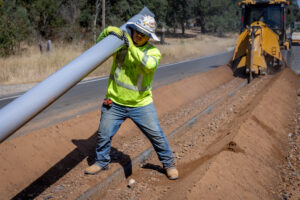 "It's more of a rural area, with less traffic, and the homes are more spread out," he said. "And there aren't really any utilities in the ground. You might have a fiber line here and there, but for the most part, you can pretty much just go. It's not like in the Bay Area, where you could have water, a storm drain, fiber, all in the road." 
While these projects have been pretty smooth for the crew from Dars Cox, no job is without its challenges. As an IBEW 1245 member, Ashe is always looking out for the health and safety of his co-workers.  
"The heat is probably one of the bigger challenges around this area," he explained. "We've had days where it's 110, 112 out, so making sure everyone stays hydrated. [Workers] coming from Oregon and other areas and aren't used to this. We've got to make sure that they're aware of what this heat will do to you." 
Ashe has been a member of the union for three years, and is grateful for the opportunity and top-notch representation. 
"I love IBEW 1245. It's the first union I've ever been in," he said. "I joined basically right out of high school. Everyone's been great. The benefits are great. Anything you ever need, you just give [the union] a call, and they make it happen." 
Photos by John Storey