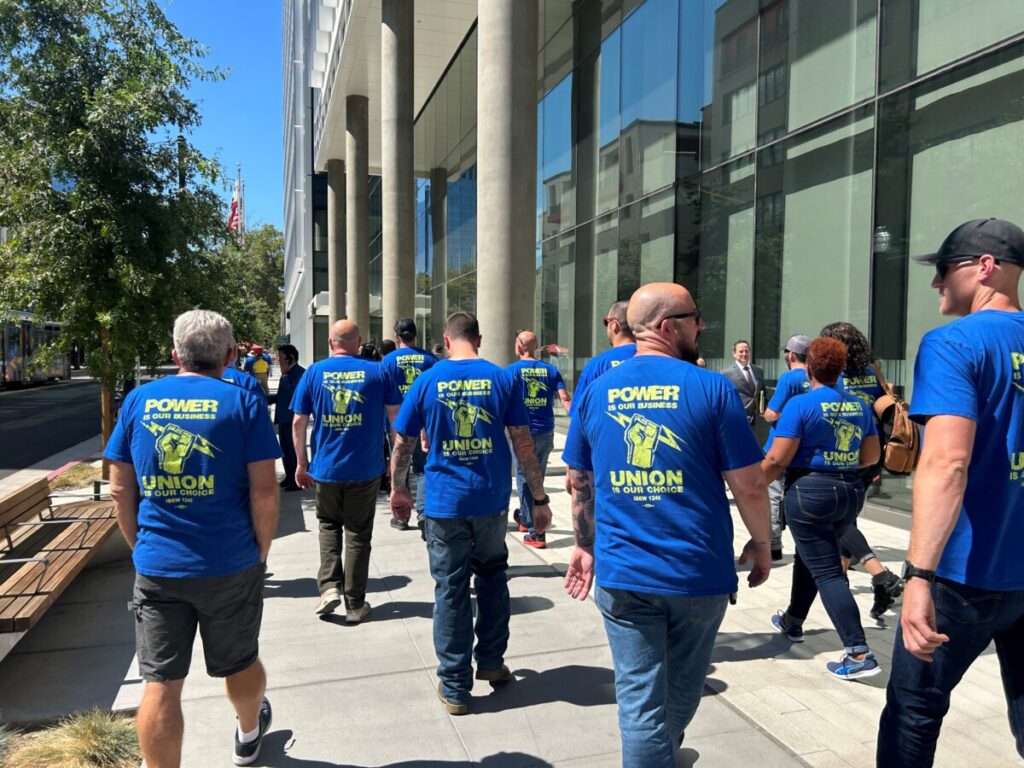 Twenty-eight proud IBEW 1245 members and staffers attended the Senate Energy, Utilities, and Communications Committee on Sept. 6 to express support for AB 1373 (Garcia).
IBEW 1245 is backing AB 1373 to ensure that large scale offshore wind energy projects will be built on time to deliver the vast amounts of clean energy California needs for the future. The bill includes "skilled and trained" language to ensure this work will be done union. This is the first time that "skilled and trained" has been applied to energy procurement.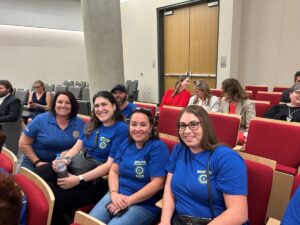 Because the offshore wind industry in California does not yet exist, AB 1373 will provide a great deal of work for many trade union members to build the harbor facilities needed, and then build and assemble the huge offshore wind turbines and platforms. 1245 union members will be the ones building many hundreds of miles of transmission lines, primarily from Humboldt Bay down into the more populous areas of the state, which is why this bill is so important to our union.
During the public comment portion of the Senate Energy and Utilities Committee hearing, every single person from 1245 went up to the mic and declared "strong support" for the bill. Our presence was a clear signal to elected officials in the room of our interests and commitment.  In the end, the Committee voted 14-3 in favor of this important legislation.
AB 1373 subsequently passed out of the Appropriations Committee as well, and on Sept. 14, it was approved by both the State Assembly and State Senate by votes of 62-16, and 29-10, respectively.
MORE ON AB 1373
AB 1373 aims to ensure that California's portfolio of energy resources includes reliable electricity supply that also provides optimal integration of resource diversity in a cost-effective manner. The bill would require the CPUC to 1) determine if there is a need for the procurement of energy resources, and 2) specify the energy resources that should be procured to meet that need.  Further, the bill authorizes the CPUC to request the Department of Water Resources (DWR) to procure those specified resources.
If passed into law, AB 1373 would enact a significant change in who will buy electricity for Californians in the future. Currently, the CPUC has the authority to require central procurement of electricity, but it cannot make purchases on behalf of the investor-owned utilities and community choice aggregators that procure energy today. Instead, the CPUC has been directing IOUs and CCAs to do their own procurement, which presents several challenges. It is cumbersome; CCAs are sometimes procuring energy in a way that doesn't support the state's clean energy goals; and if the procurement is too late, it presents the possibility of rolling blackouts during heat waves/domes.  Last year, California narrowly avoided a rolling blackout on Labor Day weekend by issuing an emergency alert instructing customers to reduce their usage – but this is no way to run an electrical supply program.
The solution, as outlined in AB 1373, is central procurement, with DWR procuring the electricity — both on a long-term planning basis, as well procuring what's known as "Resource Adequacy" energy to meet the need on high-load days. DWR is the single largest user of electricity in the State of California, and it also generates and sells electricity. DWR knows the energy market and can function both as a short-term and long-term supplier; it can also drive lower pricing; and it has access to capital at lower costs than the IOUs.  And because DWR is a state agency that is tasked with buying all types of clean energy from all over California, this can be very beneficial for the IBEW and other trade unions.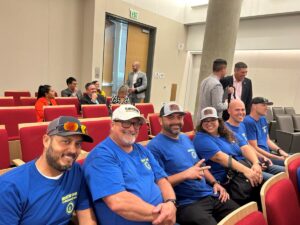 The Governor's office is supporting this bill with the intent to eliminate, as much as possible, the risk of rolling blackouts.  By removing the procurement authority from the CCAs, central procurement will limit their viability and end the harm they cause to Californians and the union members that were building the solar and wind projects before CCAs existed.
–Hunter Stern, IBEW 1245 Assistant Business Manager