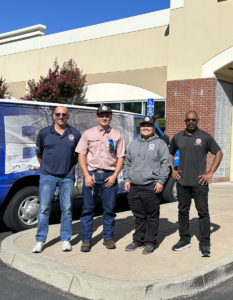 IBEW 1245 is pleased to congratulate Alexzandria Gonzales and Quinten Greener, the two newest recipients of the union's Jairus Ayeta Scholarship. Both will attend line school at the Northwest JATC Training Center (VOLTA) in Oregon this Fall on an all-expenses-paid scholarship (which includes full tuition, fees, tools, lodging and $60 per day for meals). The union's goal is to have them working for 1245-represented employers shortly after completing the VOLTA program.
Alexzandria Gonzales is the first female recipient of the Ayeta scholarship. She is currently working as a low voltage wire person and lives in Morgan Hill.
 It is an immense privilege to have been awarded the Ayeta Scholarship. This is a life-changing opportunity that I am beyond grateful for. I am finally able to pursue the career that I have been seeking for quite some time and I look forward to attending VOLTA this fall. I am ready to gain the knowledge and the skills it takes to be a lineman. With great honor, I look forward to representing IBEW 1245 and Jairus Ayeta. – Alexzandria Gonzales
Gonzales' scholarship essay focused on how organized labor has helped to level the playing field for women who wish to pursue this line of work.
"The labor movement gave women more confidence and drive to seek careers in skilled trades," she wrote. "At first, the thought about going into a male-dominated trade was scary — but on my first day of work I soon realized it wasn't at all what I thought it was going to be. I was welcomed and not treated any less than anyone I was working with. I do believe and know that has a lot to do with the labor movement and women feeling confident and having the opportunity to join other trades in this industry."
Quinten Greener is working in various construction roles and lives in Sonora. In his scholarship essay, he explained the aspects of utility line work that drew him to explore this career path.
"There are many benefits to working in the electric field, such as doing work that has an impact throughout communities and having the ability to learn new things since the field is always growing, as well as having the ability to go to many places throughout the country," he wrote. "In the electric field, you are always helping communities, from running a power plant to installing new power poles. The communities will always be watching to see the improvements you make. This can be difficult for electric field workers, but it is very rewarding."
I am extremely blessed and thrilled about receiving the scholarship. I have been working to try to get to line school for two years now, and receiving this scholarship has help push me closer to me goal of becoming a apprentice lineman. When I am done with the line school, I hope to be able to walk away with a great experience, more knowledge of the field and the ability to get into a linemen apprenticeship! — Quinten Greener
Established in 2020, the Jairus Ayeta scholarship is named in honor of an IBEW 1245 apprentice who was the victim of a fatal workplace tragedy on August 4, 2018 while restoring power at the Carr Fire outside Redding, California. IBEW 1245 will begin accepting applications for the next Jairus Ayeta line school scholarship Oct. 1 – 31, 2023. Additional details can be found here: https://ibew1245.com/scholarships/