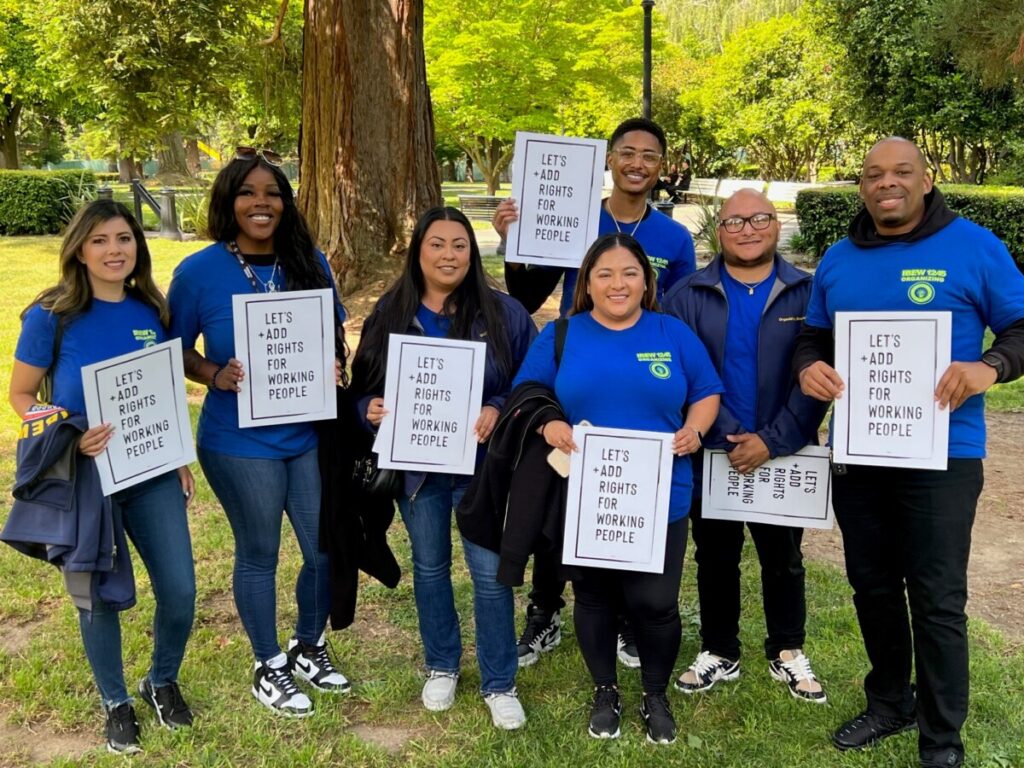 A delegation of eight IBEW 1245 organizing stewards and three staffers attended the California Labor Joint Legislative Conference in Sacramento this spring.
The conference focused on the legislative priorities of California's unions for 2023, and celebrated 2022's political victories for the labor movement. Speakers included Sacramento Mayor Darrell Steinberg, Assembly Speaker Anthony Rendon, California Secretary of State Rob Bonta, and Keynote Speaker Jennifer Abruzzo, General Counsel of the National Labor Relations Board.
The conference kicked off with a plenary session led by Lorena Gonzalez Fletcher, executive secretary-treasurer of the Labor Federation, and Andrew Meredith, president of the State Building Trades Council. The first day also featured panels and presentations from newly organized workers and high profile campaigns. One session featured representatives from other unions who shared how they fought back efforts by the anti-union Freedom Foundation to erode their public sector membership. During another plenary, workers from Starbucks United detailed the challenges they faced during their organizing campaigns, including captive audience meetings and retaliatory terminations.
"The challenges and battles described by the speakers moved me deeply, since they were once mine. I connected with their struggle and felt their pain," said Organizing Steward Teresa Aguilar. "But together, we can win this fight. The good news is that we are not alone. We are all brothers and sisters, fighting for what's right and deserved."
***
During the conference reception, IBEW Local 1245 received an award and special recognition for our role in the 2022 election. 1245 is one of the few locals in the state who turned out the most volunteers, and our contributions made a real difference. Our stewards and staff joined IBEW 1245 Business Manager Bob Dean to accept the award on stage. For many of our new stewards, this was a proud moment.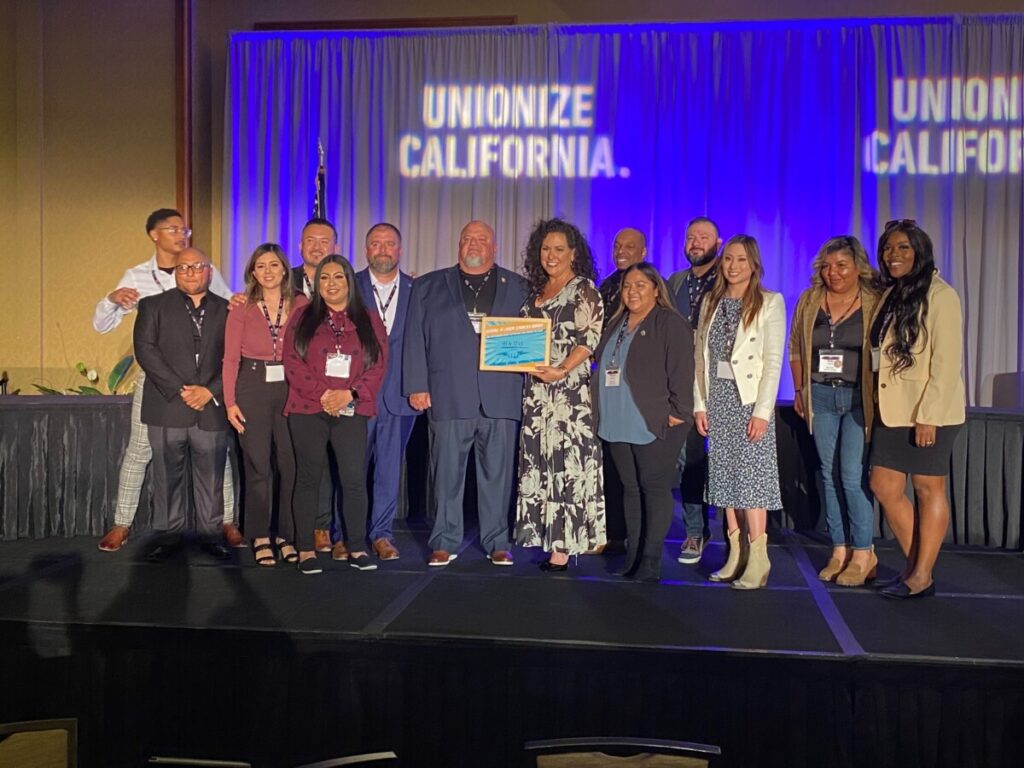 "It was really an honor, and it will forever impact me for the rest of my life," said Organizing Steward Rocio Gianelli.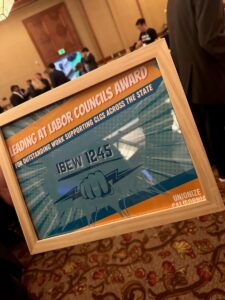 On the second day, our delegates split up by Central Labor Council and attended lobby day sessions with various legislators, working to enlist their support on pro-labor bills. Our Local 1245 delegation worked to raise awareness of and gain support for SB 705, which would increase penalties for assaulting utility workers.
"Having the chance to speak to Assemblymembers Esmeralda Soria, Juan Alanis, and Senator Ana Caballero's staff on these matters was empowering," said Organizing Steward Roberto Delgado-Bustos. "I appreciate this opportunity more than anything and will continue to learn and advocate for the IBEW 1245 and what we represent."
"This experience made me realize how much work and effort goes into passing laws," added Gianelli. "There are many passionate people out there that are fighting for fairness, and I can say that I'm all in for this team."
"This experience was educational, inspiring, motivational, and unforgettable," said Aguilar. "In this experience, I learned about the lobbying process, the legislative process, and, most significantly, the fact that our voices will be heard."
–Rene Cruz Martinez, IBEW 1245 Assistant Business Manager and Organizer