Beneath rainy skies, more than 300 IBEW 1245 line clearance tree trimmers (LCTTs), manufacturing workers, IBEW 1245 staff and their families gathered for the Soccer Tournament and Family Day at Ripon Mistlin Park and Recreation Center in Ripon, CA.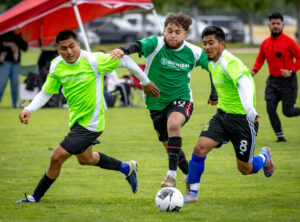 The highly anticipated annual tournament returned this year for the first time since the onset of the COVID pandemic. IBEW originally launched the family-oriented event in 2012 as a concerted effort to recognize the exceptionally skilled and challenging work of IBEW 1245's LCTTs, and to build unity across employers prior to bargaining for a Master Agreement.
Senior Assistant Business Manager Ralph Armstrong kicked off the day, saying, "On behalf of the IBEW 1245 Executive Board and Business Manager Bob Dean I'm excited to welcome everyone here today!"
"I'm glad to be back! I missed it," said 25-year IBEW 1245 member and line clearance tree trimmer Juan Cervantes, who works for Mario's Tree Service in Stockton. "The fun, seeing people from other companies, it's wonderful."
This year marked one of our largest tournaments ever, as 120 players in seven teams took to the field.
"This is unbelievable!" said Mark MauMau, IBEW 1245's Assistant Business Manager who oversees the LCTT team. "Our members were hungry to participate in an event that celebrates our unity and our families, to share something we have in common and to build fellowship."
"Restarting the soccer tournament again after five years helps rejuvenate the team, lets us disconnect from work, and reset all of our batteries," echoed 1245 Business Representative Francisco Ferreyra. "It's tremendously valuable, building the brotherhood."
***
While the teams competed on the field, their children and families enjoyed themselves on the sidelines, playing soccer and breaking open pinatas filled with treats. A salsa cookoff, raffle, and a sumptuous spread of fresh tacos from the local restaurant added excitement to the day.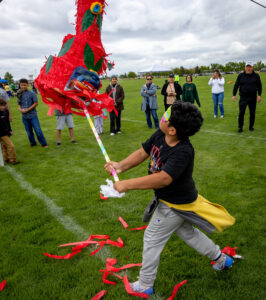 "It's all about family!" said first-time tournament participant Juana Perez Ochoa, a six-year IBEW 1245 member who works as a welder at Trayer Manufacturing.
"We can forget about work for a day and just be together,"  she added, expressing her gratitude for the union and the protection it provides all workers.
Lead Organizing Steward Arnaldo Lizarraga, also from Trayer, had brought the idea of forming a team to his co-workers, and was proud to pioneer the first manufacturing team to participate in what has traditionally been an LCTT event. More than 21 members from Trayer joined the tournament, and were warmly welcomed by the tree trimming side of the house.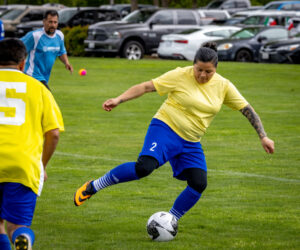 "[This event] creates a glue, an energy," said Lizarraga. "At the end of the day, we share a common goal: building our communities and supporting each other. We are the union, and we have each other's backs."
Craig Murk, an instructor at the California/Nevada  Joint Apprentice Training Center (JATC), also attended the event, with the goal of spreading the word about the new state-recognized journeyman line clearance tree trimmer certification program. He passed out informational pamphlets in English and Spanish as he articulated the value of enrolling in the program.
"Why be certified?  You get peer recognition, contractor recognition, utility recognition and increase your employability, wage stability and the potential for wage increases," he explained. "It's the equivalent of getting a B.A."
The event wouldn't have been possible without our team captains, who take on a leadership role building their teams, encouraging family participation, and promoting the spirit of the day:  Friendship, Unity and Solidarity (Amistad, Unidad, y Solidaridad).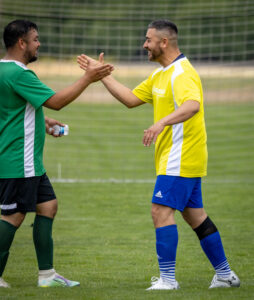 "It's all about our families getting together, our union brothers and sisters," said seasoned team captain and highly respected line clearance member Jesus Solis, who works for Wright Tree in Turlock. "We get to meet people from other yards, people we haven't seen for years.  I want to thank the union and everybody who brought us together."
Many thanks to all who made the day such a success, from team captains and our members to Business Manager Bob Dean, our Executive Board, staff, Business Reps and volunteers.
–Eileen Purcell, Sr. Advisor to the Business Manager & Soccer Committee Chair
photos by John Storey
---
Teams
Davey Tree Surgery – Watsonville (Team Captain: Jorge Martinez)
Mario's Tree Services – Angels Camp (Team captain: Miguel Rios)
Mario's Tree Service – Bakersfield (Team captain: Ruben Martinez Rodriguez)
Mario's Tree Service – Stockton (Team Captain: Carlos Tellez)
Nates Tree Service – Sonora (Team Captain: Daniel Munoz Zuniga)
Trayer Manufacturing – Bay Area (Team Captain: Carlos Castillo)
Wright Tree Service – Turlock (Team Captain: Jesus Solis)
Winners
Staff & Volunteers
Ralph Armstrong
Ray & Linda Banfill
Dannika Bynum
Ben & Lily Contreras
Francisco & Briza Ferreyra
Mark Mau Mau
Liz McInnis
Mica Morroco
Junior Ornelas
Angela Pagtalonia
Eileen Purcell & Jose Artiga
Abel Sanchez
John Storey