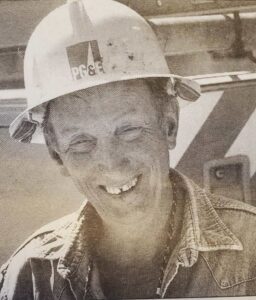 Gerald Bruce Pachie passed away on Saturday, March 4, 2023 at the age of 79.  He was born and raised in Middletown, California. Bruce was a proud veteran of the United States Army. He served in Vietnam for which he received multiple awards: 2 Purple Hearts, Air Medal, National Defense Service Medal, Vietnam Service Medal with triple Bronze Star attachment, Combat Infantryman Badge, Republic of Vietnam Campaign Ribbon, Expert Rifle Badge with rifle bar, and Parachutist Badge.  While training at Fort Benning, Georgia, he met and married the love of his life, Shirley Wander. Following his years serving in the military, they returned to Middletown to raise their family.  Bruce began his 42-year career with PG&E as a lineman and eventually became a troubleman until his retirement.
Bruce loved the outdoors and hunting, a passion he shared with his two sons and his grandchildren.  A longtime hunter, Bruce enjoyed hunting out at Guenoc Ranch and out-of-state trips to Idaho and Wyoming. He loved packing into the mountains on his beloved horses. He also enjoyed his dogs and hunting pheasant.
Bruce loved high school sports and went to as many games and rodeos as he could, to watch his sons and grandchildren participate. He was a Founding Board Member for both the Middletown Colts Football Program, as well as the Middletown Cobb Little League. He loved the small-town life of Middletown and was always ready to support local businesses, schools and anything that would benefit the kids.  He was an avid supporter of FFA, 4H and local horse clubs and made sure the lights at the Central Park Arena were ready for Middletown Days and summer riding.
Bruce is survived by his wife of fifty-seven years, Shirley Pachie, two sons, Louie Pachie (Patsy), Greg Pachie (Lisa), and his three grandchildren Rebecca (Scott), Gracie, and Tanner.  His pride and joy were his grandchildren, and he was elated to soon be welcoming his first great-grandchild. He is also survived by his sister Carolyn (Tom McMahon), brothers Larry Menzio (Martha), Eric Nelson and nieces and nephews. In lieu of flowers, the family requests donations be made to the following organizations that Bruce was a proud founder and supporter of:
*Middletown Cobb Little League
*Middletown Colts Football Program
*Middletown High School Football Program