James Nicholas D'Avanzo of Sun City, Arizona, passed away April 16, 2023. He was born in Riviera Beach, Florida on April 18, 1955. Jimmy graduated from Okeechobee High School in 1973. He was married to Sylvia R. D'Avanzo on September 14, 1974 in Okeechobee, Florida.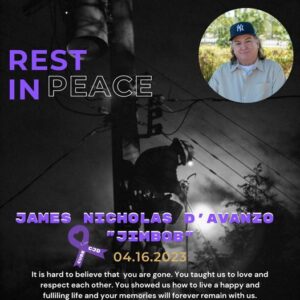 Jimbob worked as a Journeyman Lineman for 45 years and a member of the IBEW for 50 years. He had a passion for family, work life and his faith. Everyone knew Jimbob for being the first at show-up with his 18" line-boots with rolled up jeans, his Yankee hat and RayBan aviators. He loved every single one of his "brothers."
He was survived by his wife, Sylvia D'Avanzo; his children, James (Nicky) D'Avanzo & Jammie Shedden (Jesse); his grandchildren, Kennedy D'Avanzo, Jessica D'Avanzo & Jesse James Shedden; his siblings, Nicholas D'Avanzo (NY), Daniel D'Avanzo (MI) and Clorinda Buell (FL).
His death was a result of a very rare and fatal neurodegenerative disorder called Creutzfeldt-Jakob Disease (CJD). There is no cure and is non-treatable with a life expectancy of only one year with the onset of symptoms. He was diagnosed by the Mayo Clinic who was unable to pinpoint the reason he contracted this rapid sporadic prion disease but was advised that only 400 people in the US get this disease. We are so thankful that he was able to talk to and visit some of his very dear friends and family in the prior weeks before his passing.
Memorial Service: Saturday, June 3rd, 2023 at 2pm. Sun City Christian Church, 9745 W Palmeras Drive, Sun City, Arizona 85373
–submitted by the D'Avanzo family