Electrical utility work is anything but predictable – and sometimes, an unexpected situation can mean a last-minute change of plans. That's precisely what happened when a five-person IBEW outside line crew from Wasatch Construction arrived at a job in Reno, NV on a snowy day in early March.
The crew thought they were coming to perform a simple service upgrade on behalf of NV Energy for a customer's new panel. But when they arrived at the location, they discovered that the transformer was all the way down in the ravine.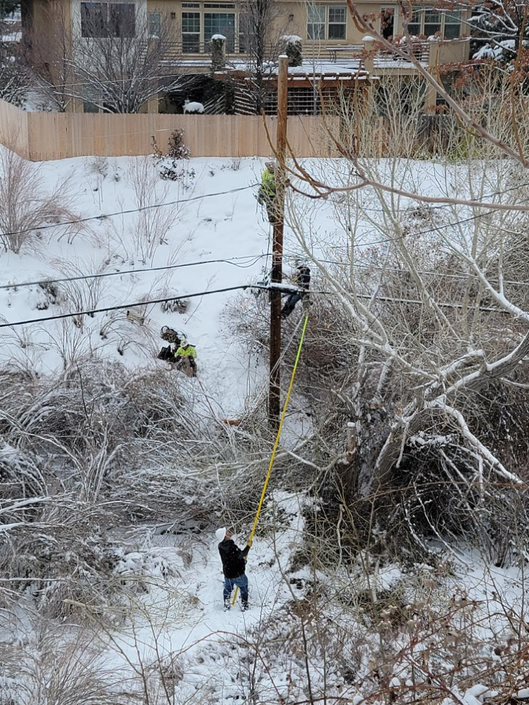 Without missing a beat, the crew re-assessed the situation and decided to move the transformer out of the ravine and up to the street – both for future access purposes, and also to mitigate any possible fire danger once the seasons change.
Their quick thinking, ingenuity and strategic action are skills that 1245 crews must utilize on a daily basis, as they are often faced with these types of surprises and challenges at work. Although the original job would have been much easier to complete, the crew went the extra mile to move the transformer, both as a safety measure, and also to ensure any other line crews who need to access that equipment in the future can now do so with ease.
***
A sharp mind, big-picture thinking, and willingness to change gears at a moment's notice are just some of the attributes needed to work on an IBEW power line crew.
"It takes grit, determination, teamwork. You've got to want it," IBEW 1245 member and Journeyman Lineman Adam Pierson explained, pointing out that this line of work definitely isn't for everyone. "For me, I like the challenging aspect of this job … But if you don't know what you're doing, it can be dangerous for not only yourself, but also for your crew members."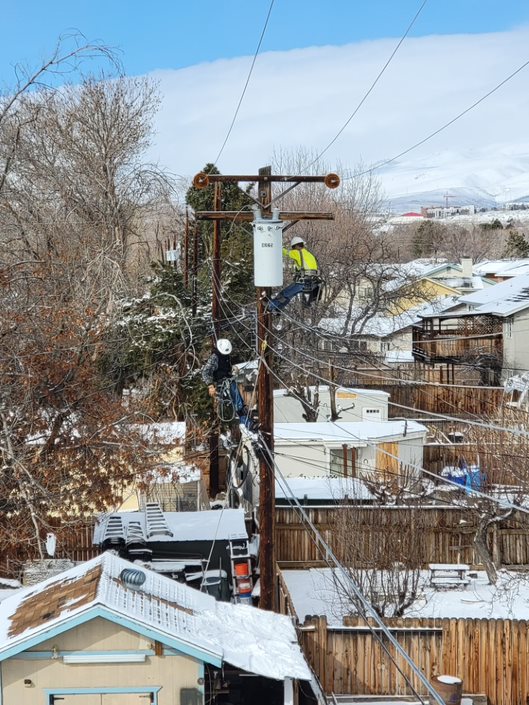 IBEW 1245 member and fourth step apprentice Osvaldo Marin noted that this job takes a lot of strength — both mental fortitude, as well as a great deal of physical capacity.
"You've got to be able to move — run, jump, lay down poles, be agile, be mobile, have no fear of heights, be able to climb and work on poles, and run up and down canyons and hills and mountainsides," Marin said, underscoring the athleticism needed to perform everyday tasks. "And if you're on transmission, you're running up and down these big, tall towers — it takes a lot out of you. You've got to keep your body in shape."
Marin detailed how his apprenticeship training — which includes physical skills like climbing, as well as classroom lessons, homework, tests and daily on-the-job training from experienced journeyman linemen — are preparing him to perform the job safely and effectively.
"It's a challenge every day," he said. "I'm here to keep learning from these guys, always hungry for that next challenge."
Pierson, who works as a foreman for Wasatch, explained how IBEW crews cultivate an incredibly close bond, as they rely heavily on one another to do the work correctly and keep the whole crew safe.
"The camaraderie, the brotherhood … when you're working with good people, this is the best job in the world," he said. "You know the guys have your back, and are watching your back. The brotherhood is probably the best part of it for me."
–Fred Aboud, IBEW 1245 Business Rep