30-year IBEW 1245 member and retiree Harold Everett Harms, passed away on December 21, 2022 at his home in Yerington.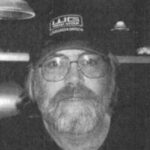 Harold was born April 17, 1952 in Reno, Nevada the son of Donald and Margaret Harms. He grew up in sparks and graduated from Sparks High School. He worked as a lineman for many years with Sierra Pacific Power Company and Par Electrical Contractor.
He was preced in death by his parents, his wife and love of his life of 33 years, Sherrill Harms, his sister, Donna Winters, brother-in-law, George Winters; his brother, Edward and a grandson, Matthew Sutton. He is survived by his daughters, Shaunna Harms, Brooke Sutton, Kimberly Harms; and a step son, Dustin Majtan; and also several grandchildren, nieces and nephews.
A Celebration of Life service will be held at a later date.