Members of the IBEW 1245 Reno/Sparks Retirees Club rallied in front of the Reno VA Medical Center to address severe staffing shortages within the VA system. Retirees and Organizing Stewards Rita Weisshaar and John Wilson, together with their spouses, demonstrated their solidarity with members of AFGE and other labor organizations to bring awareness to a nation-wide healthcare crisis.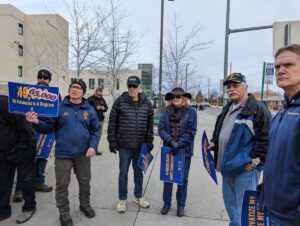 With over sixty-four thousand vacancies, VA hospital staffing shortages are causing appointments to be cancelled and delays in much needed treatment for those who have served our country. Staffing shortages are creating added pressure to employees who are experiencing burn out and are being denied time off.
Union members are calling on the VA to invest in its staff and infrastructure.
"Where we were (demonstrating) was the major drop off point of patients, we were helping people in and out of their cars," stated Weisshaar. "We talked to vets from Granada, the Vietnam War, and Afghanastan. They are so worthy of our help, and I feel we made a big impact on the community and the veterans that we were talking to."