A massive 6.4 magnitude earthquake struck Humboldt County in the early morning hours on December 20, its epicenter was about 15 miles from Fortuna.
PG&E Electric Crew Foreman Tim Nickols was at home when the earthquake struck. "When I woke up it was shaking pretty extreme, violent," said Nickols. "And I was thinking to myself, this should stop, or the house is going to fall down."
As 70,000 customers were without power following the aftermath of the quake, IBEW 1245 members swiftly left their own homes and families to respond to several gas leaks, downed power lines, and assess the damage.
The morning found Nickols alongside the electric crew making repairs at a dairy in Ferndale. "We've been patrolling main line, making tags, assessing damage. Now we're putting up wire due to the earthquake," Nickols said.
Underneath a freeway overpass in Fields Landing, gas crews were dispatched to repair a gas leak on a three-inch distribution main that was detected in the shake zone. "That [distribution main] feeds all of Fields Landing area. The main is really deep so that's a challenge," stated PG&E Gas Crew Foreman Jesse Faix.
Due to the depth of the distribution main, proper shoring was needed to excavate. "The main is approximately seven feet. On this end, the repair is probably seven to eight feet," said Faix. "At the other end of the job site, we moved the hole back because we found it a little shallower, at five and a half feet, which still requires shoring. It's all a challenge, and we're hoping to beat the rain."
20 miles away in Rio Dell another gas crew repaired leaks with their own set of challenges, less-than-ideal soil conditions. "When you work in your own area, you're used to knowing what kind of soil you're going be digging in," stated Jeremy Bartee, PG&E Arc Crew Foreman from Auburn. "Each of them requires a different investigative technique, but out here you just don't know what you're in, whether you're investigating a gas leak in clay, cobblestone, hard pan."
The type of soil that the crew was working with was clay, which tends to stick together. "It's not porous, so it doesn't allow the gas to come right up where you would think it would," Bartee explained. "It takes a lot more drilling holes and taking reads."
Complete restoration of the 70,000 customers who lost power by the temblor occurred the following day, per PGEcurrents.com.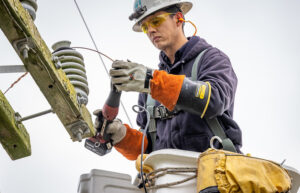 The restoration efforts could not have been done without the swift and safe work of several lines of business coming together for this emergency response. Roughly 25 Gas Service Reps were deployed to assist with restoration efforts. Over 70 Gas Compliance Reps were dispatched to assist on two fronts: completed surveys of the gas pipelines in the impacted areas and locating gas lines for emergency repairs.
"During an event like this, it takes members from all lines of business to pitch in. IBEW 1245 deeply appreciates the hard work and dedication of our membership," states Assistant Business Manager Mike Adayan.
"From the responsibility of restoration to guaranteeing safe and reliable service to all of PG&E's impacted customers, it was an extraordinary amount of work completed in a short period of time; all with the approaching Christmas holiday," said Adayan. "Again, thank you to all, it's times like these that makes me proud to be an IBEW 1245 member."
PG&E continues their ongoing response to the quake by conducting courtesy gas safety checks at homes and businesses across the impacted area.
KCRA reported 17 individuals with injuries were sustained including 2 deaths in the city of Rio Dell as a result of the earthquake.
–Melissa Echeverria, IBEW 1245 Staffer
Photos by John Storey