After a pandemic-induced hiatus, the IBEW 1245/PG&E Car, Truck and Motorcycle show triumphantly returned to the PG&E Gas Training Center in WInters on October 1, 2022. More than 75 vehicles owned by IBEW members and PG&E employees were on display at the second annual car show.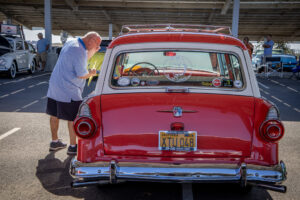 "The car show was fantastic! It was great to see our members, union staff, reps and leadership coming together for this a special event," said IBEW 1245 Business Manager Bob Dean.
1245 Business Reps Gerald Williams and Ryan Skelton spearheaded the day, with help from a cadre of union staffers, members and volunteers.
"We had a great time interacting with our members as well as the Winters community. We had a taco truck style food vendor, music, and tons of raffle prizes that we gave away throughout the day," said Skelton. "Even the Winters Police Department stopped by to take in the car show! The best part? The event raised around $5,000 to donate to St. Jude Hospital."
***
The car show featured an outstanding mix of all sorts of vehicles, from immaculately restored classics to brand new sports cars.
For IBEW 1245 member and PG&E Troubleman Jimmy Webb, the Gearheads Gathering was an exciting opportunity to show off his shiny 2022 concept eight Corvette in rapid blue.
"It's a mid-engine car, some could describe it as a super car," Webb explained. "It has a dual clutch transmission, like a Ferrari or a Lamborghini. It's got a mid-engine like a Ferrari or a Lamborghini. It is an exotic American car."
In a cheeky nod to this special occasion, Webb temporarily affixed the PG&E logo to the side doors using painter's tape, and positioned a tiny two-inch safety cone in the front.
Webb, who is approaching 20 years with the company, recognizes that this Corvette — and the C7 and C5 Corvettes he had before this one — never would have found their way into his possession if not for IBEW 1245.
"If it wasn't for the union, I wouldn't have this automobile, because we would be getting scrub wages and we would all be just scraping by, just like everybody else in the country," he said candidly.
***
After all the judges and spectators had a chance to check out the vehicle lineup, the awards were announced. IBEW 1245 Business Rep Lou Mennel's 1955 Ford F100 nabbed the Best Truck and People's Choice awards.
"This is the second show that I have entered, the first time the truck has won an award. I was very shocked to win the People's Choice Award, quite an honor," said Mennel, noting that he bought the F100 as a high schooler in 1980 for 975 dollars. "I have done most of the work myself, or with the help of family. When my kids were young, it sat untouched for years. Nowadays, my son-in-law, Ben Girard, who works for PGE in Sacramento GC, does most of the work with me, or for me. About three years ago he asked me what my plans were with the truck. I told him that I planned on finishing it when I retire. He told me that's a bad plan, why not finish it now and enjoy it sooner? He was right and it's nearly finished … but with old vehicles, they are never really done."
Other winners included:
Best C10 – Eddie Herrell (1969 C10)
Best Motorcycle – Scott Radabaugh (kawasaki w800 café)
Best of Show – Jeff Keiser (1933 5 Window Ford)
Best 4×4 – Todd Wooten (1967 Ford Bronco)
Longest Drive –  TJ Hohenberger – (2018 Dodge Challenger Hellcat)
Most Unique – Jeffrey Lambert (1935 International Fire Truck)
Best Import – Kevin Goodner (VW Bettle)
Under Construction – Ryan Skelton (1974 Chevrolet C30)
Best Modern Car – Tim Gonzalez (2016 Chevrolet Camaro SS)
Best Hot Rod – Scott Caster (1933 Ford Coupe)
Most Experienced Driver – George Castro (1928 Ford Roadster Pick-up)
"Thanks to everyone that organized, volunteered, MC'd, sold tickets, directed traffic, sold t-shirts, registered participants, helped set up, pack up the van, or brought a car to the show," said 1245 Senior Assistant Business Manager Anthony Brown. "All of you helped to make today a real success."
"I would especially like thank our members from PG&E's Reprographics team for making the award plaques for us," added Williams. "They came out great, and they were more than happy to help us out."
Mark your calendars for the next Gearheads Gathering on the first Saturday in October, 2023.