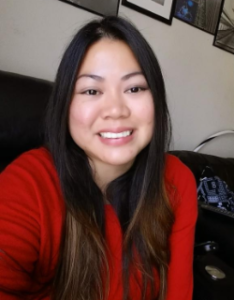 We deeply regret to announce the passing of six-year IBEW 1245 member Maria Joana Hernandez. Sister Hernandez worked as an operating clerk for PG&E in Concord, and sadly lost her battle with Acute Lymphoblastic Leukemia just one day after her 39th birthday.
The obituary below is republished from here:
Maria Joana Hernandez was born on September 12, 1983, in Manila, Philippines to George and Mabel Alivio. Loving baby sister to brothers Jose Paulo Alivio, John Gregory Alivio and sister Maria Luisa Alivio.  Joan grew up in the District of Paco in the Cote Family Home along with her siblings, multiple cousins, and many pets.  Never a dull moment in the house as it was always filled with laughter and fun. Dancing, shopping, eating, and hanging out with friends and family is what she liked to do.  Joan graduated De La Salle University in 2004 with a degree in Hospitality.
During her visit to the US in 2006 she was hanging out with her cousin Paulo and his friends, and this is where Joan met Misael Hernandez and thus began their love story. On October 18, 2007, Joan and Misael tied the knot and over the next 15 years they built an amazing life together. Everywhere she worked she made friends along the way as she was just a joy to be around. Joan enjoyed her work but kept her life balanced by always trying to have some fun.
Joan and Misael loved to travel. Short trips on weekends exploring all over California and longer trips to 13 different states. Hawaii being her favorite with Chicago and New York coming in tied for second.  Hiking, Camping, Lake Tahoe, Disneyland, Yosemite just to scratch the surface of places she liked to visit. Joan was always game for an adventure and if you were lucky enough to be invited, it was a guaranteed good time. When she wasn't hanging out with friends you could find her researching on YouTube and planning her next adventure.
As a lover of animals, Joan and Misael are the proud pawrents of Chato, whom they would take along everywhere they went. Joan even taught Chato how to take selfies as one of his tricks. So, there was always a great photo to be had with their adventures.
In February 2022 Joan was diagnosed with Acute Lymphoblastic Leukemia (ALL) which ended up being her hardest mountain to climb. With Misael by her side Joan fought a hard fight over the past 8 months. She endured multiple rounds of chemo, long and sleepless nights in the hospital all without complaining. She was a warrior. Ultimately due to extremely complicated health issues, she is now resting in paradise.
Joan the amazing wife, daughter, sister, niece, aunt, cousin, and friend. Simply put she was loving, kind, selfless, respectful and funny. Always there to lend an ear, support or crack a joke. Gone but not forgotten, her spirit will live on through those who loved and cherished her. Keep Joan's smile in your heart as goodbyes aren't forever, they are just temporary.