Fearless Union Leader at NV Energy
It is with deep sadness that we announce the sudden passing of our union brother, Ron Borst, on Sunday, September 4, 2022 of Labor Day weekend.
Adam Weber, IBEW 1245 Business Representative currently representing IBEW 1245's members at NV Energy wrote, "On Sunday, the world not only lost a great union member, but also a great husband, father, and friend. Your union brothers and sisters will always be thinking of you."
A seasoned journeyman lineman, Brother Borst was a 56-year, dues paying member of IBEW 1245 at the time of his death. He was president and co-founder of the Reno/Sparks IBEW Retiree Club and an active IBEW 1245 Organizing Steward. His career traversed Nevada, Washington, Oregon, California, and Montana. He fervently believed in the IBEW's Code of Excellence and passing along the craft and the indispensable role of the Union in building a fair and just workplace to younger linemen.
Journeyman Lineman and IBEW 1245 Business Representative Fred Aboud was mentored by Brother Borst as a young apprentice. "Brother Ron treated me like a human being not an apprentice…he never waivered from that. He was and is the light of the IBEW," stated Aboud. "We as members can only hope to live up to his dedication and commitment not only to the IBEW but to the trade of being a craftsman and a journeyman lineman."
IBEW 1245 Business Manager Bob Dean stated, "Ron Borst was the real deal. He lived and breathed union. He fought for what was right. He believed in the brotherhood and poured heart and soul into the cause of union rights. His word was his bond. He embodied the creed of the Brotherhood: safety first and we are our brother's keeper. He will be sorely missed."
From 2009-2011, Brother Borst co-led the historic, successful fight to recover retiree medical benefits in a two-and-a-half year fight with NV Energy. The company had unilaterally and arbitrarily slashed retiree medical benefits that had been negotiated over several bargaining cycles.
When the company abruptly ended a meeting without addressing retirees' concerns, he fearlessly grabbed the microphone to announce a rally and picket – the first picket line in sixty years. His deep, resonant voice captivated audiences young and old, demanding attention and respect, on the picket line, at the Board Room, in the Union Hall.
He was relentless in his defense of retirees' medical care, calling upon the company to honor their word. He was instrumental in mobilizing active and retired members, and allies in the protracted struggle for the promised benefits. From Reno to Las Vegas, to New York City, Brother Borst unhesitatingly lifted his voice to demand justice, a battle Local 1245 won.
"Ron was fiercely Union. He never backed down and never gave up," said Rita Weisshaar, vice president of the Reno-Sparks Retiree Club, an active Organizing Steward Lead, and a leader in the NV Energy fight alongside brother Borst. Former IBEW Organizer Fred Ross, who staffed the NV fight added, "He was a fierce defender of IBEW Local 1245 and the membership, a gentle giant who knew no fear."
"I only knew Ron Borst for a short period of time, but he touched me in many ways," said Bill Wallace, member of the Local 1245 Retirees Club, an active Organizing Steward, and a long time-time 1245 activist. "Ron had a powerful effect on me, because of the infinite strength of his convictions. He was able to impart this strength with kindness and compassion to everyone he met. I am privileged to have known Ron. I will miss his caring positive optimism and Ron will always be in my thoughts."
The NV Energy fight was transformative, not only for NV retirees, but for the Union, planting the seeds for a deeper investment in organizing and the genesis of the Organizing Steward Program.
"His DNA was 100% unionist," said former IBEW 1245 Business Manager Tom Dalzell. "His willingness to risk all to win all for retiree medical not only secured retiree medical but established our relationship with NV Energy and the launching of the Organizing Steward Program."
Brother Borst reveled in the growth of the Organizing Steward program and often stated his profound gratitude to the young people picking up the torch to defend worker rights, rarely missing a training or an action on his own time.
He fundamentally understood that unions were working men and women standing together to collectively demand fair wages, benefits, and working conditions, and that without the power of the union, working people had no chance to win fair wages and benefits, let alone a secure retirement.
"Ron Borst was always an inspiration," said Assistant Business Manager Rene Cruz Martinez, who currently leads the Organizing Program. "His devotion to the brotherhood and sisterhood was unparalleled. He was someone I looked up to, respected and admired."
IBEW 1245 President Cecelia de la Torre shared, "I met him during the NV Energy fight in 2010. He was so active and strong, yet one of the nicest guys you'd ever meet. We have been friends since that day. I will miss him."
In retirement, he and his beloved wife, Vickie Borst, regularly attended union meetings and events, and participated in Nevada's electoral campaigns to advance the election of labor friendly candidates.
Brother Borst was instrumental in building the Reno/Sparks Retiree Club and served as president. As recently as May, 2022 the club raised funds for the purchase of 135 fans for low-income seniors. Brother Borst launched the annual fan drive in 2015 after hearing a radio ad about low-income seniors suffering from Nevada's withering summer heat because they had no access to air conditioning. Borst invited retirees from his club and other IBEW retiree clubs across Nevada to collect as many fans as they could, and a tradition was born. A week before he died, he reached out to a former union brother who was recovering from a fall and offered to craft a special walking cane.
When he wasn't working for the union, Brother Borst pursued many other interests. He was an avid fisherman, hunter, and a gifted woodworker. He crafted a table for the vestibule of the Union Hall with the IBEW emblem. He carved handmade gavels for Union leadership and Unit Chairs. His most recent endeavor was the expansion of his woodshop, building a traditional truss structure using pegs.
Brother Borst was initiated into the IBEW on December 31, 1966, card number D310906, as an "A" Member. He retired from NV Energy in June, 2006 after a 40-year career, and remained active for the next twenty years as a dues paying member.
Tom Bird, current President of the Nevada Association of Retired Americans (NARA) President, NV AFL-CIO Executive Board Member, and co-leader of the NV Energy campaign, shared, "Our brother Ron Borst, was a high climbing lineman to his last days. He even built his own temple, unfortunately, he will not be able to enjoy it. I don't know anyone who could turn a piece of wood like he could. He was a man of strong convictions he used to hide his kind heart. When he got that twinkle in his eye and he'd say, 'You know, Birdman' and you knew one of his good stories was about to go down. Rest in peace brother, we'll hold the pull from here."
–Eileen Purcell, IBEW 1245 Senior Advisor to the Business Manager
---
Ron Borst – In His Own Words
February, 2021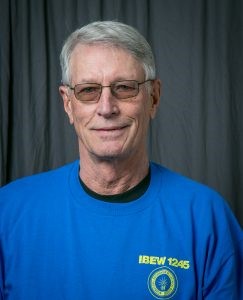 "I grew up in northeastern Washington state, in a town of 30 people. The word 'union' did not exist in that area.
Eventually, I got a chance to go to work for an IBEW contractor. I joined IBEW Local 77 and got a chance to complete the lineman apprenticeship. I began to see the importance of a union, the 'old boomer' linemen saw to that, telling me, "Be at the union meeting or else!" That was 50+ years ago.
I was very active in my state and Local 125, in Portland Oregon, but I was pretty quiet here at 1245 until 2009. I had been retired three years, and that's when all hell broke loose! NV Energy CEO Michael Yakira arbitrarily kept our retiree medical benefits that we had bought and paid for in negotiations. It was time to fight! That we did, with the help from Tom Dalzell, Fred Ross Jr, Eileen Purcell, and the 1245 Executive Board. Vickie and I worked at signing up 1245 retirees to join the Retirees Club in our "Right to Work" state. We won that battle with the support of the retirees. We also took on the billionaires in Nevada and defeated Question 3, which would have deregulated the utilities in Nevada.
The IBEW has influenced many communities in a positive way, and being involved keeps us strong. It gives me great pleasure to see 140+ organizing stewards stepping up; I know the torch will be carried way into the future by these able-bodied people."
Ron Borst retired from NV Energy in 2006 after 40 years of service. He's the president of the Reno/Sparks Retirees Club.