On the last day of the 2022 California legislative session, IBEW 1245 celebrated a monumental victory for our members and the climate, as the State Senate and Assembly voted overwhelmingly to pass the Governor's Climate Package, which includes legislation to extend the life of the Diablo Canyon Power Plant. As the largest generator of local, greenhouse gas-free power in the state, Diablo Canyon provides much of the critical, local baseload power that California needs to meet its climate goals. Originally scheduled to be decommissioned in 2025, the governor's climate package would extend the life of the plant for five years, as a bridge away from fossil fuel-based energy to renewables.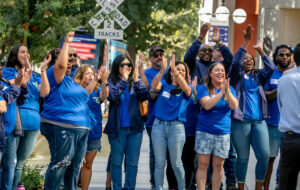 Earlier in the day, more than 100 IBEW 1245 organizing stewards, staff and executive board members gathered at the State Capitol in Sacramento in a show of force to demonstrate support for the Climate Package and Diablo Canyon.
Clad in royal blue union t-shirts inscribed with the slogan, "Power is our Business, Union is our Choice," IBEW 1245 members and staff lined the sidewalk leading to the capitol building chanting, "Keep Diablo Canyon Open" as legislators made their way to the Assembly and Senate chambers.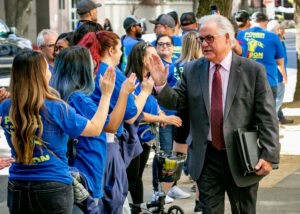 "We are here to keep open a valuable resource for the entire state of California and to protect our membership's jobs at Diablo Canyon," IBEW 1245 Business Manager Bob Dean said. "IBEW 1245 members at Diablo Canyon are the people who keep your lights on and the power flowing in California.  They are dedicated to what's right — not just for where they work, but for all over California. Today, we are all Diablo Canyon."
"The passage of this package of bills will provide $40 billion of funding for the jobs of current and future IBEW 1245 members over the next ten years. This work will secure critical resources of clean energy to ensure the reliability of California's grid, while continuing to meet the State's goals of reducing greenhouse gas emissions," 1245 Assistant Business Manager Hunter Stern explained.
IBEW 1245 Business Representative Dave Sparks, who worked for ten years as an electrical control tech at Diablo Canyon, said, "We're here to support the initiative to extend the life of Diablo Canyon Power Plant. We want to reduce greenhouse gas emissions and safeguard the power reliability of the grid. We want to save 1,100 jobs — of which 400 are IBEW 1245 members' livelihoods — and we want to preserve the $1.1 billion the plant pumps into the local economies of San Luis Obispo and Santa Barbara Counties."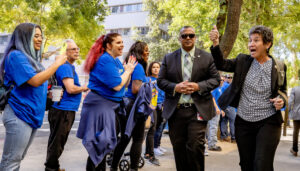 "California needs the power. Diablo supplies 2.3 gigawatts of stable reliable baseload power to the grid," Longtime DCPP IBEW 1245 Business Representative Pat Duffy noted. "Diablo is an essential piece of the power equation for the current power landscape, and California's future energy goals."
If the plant were to shut down as scheduled, IBEW 1245 Senior Assistant Business Manager Bryan Carroll fears we may see, "a much higher risk of blackouts and exorbitant prices for electricity, much like the debacle years ago. We're still paying for that."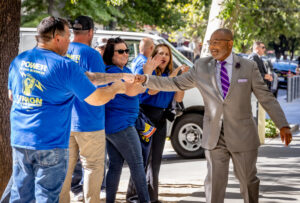 "It's important for energy reliability. Our economy depends on it," said IBEW 1245 Senior Assistant Business Manager Anthony Brown. "The heat wave will show how important Diablo Canyon's baseline is… Working people support extending the life of Diablo Canyon Power Plant because it's important to them as rate- payers, as tax-payers, and as people who want reliable clean energy across the state."
IBEW 1245 Vice President Willy Garris, who worked at Diablo Canyon Power Plant from 2004 – 2018, summed it up: "The number one reason to keep Diablo open is the risk that the grid is in. We're not ready to transition to 100% renewables yet."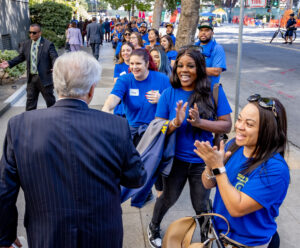 IBEW 1245 members from across California joined their brothers and sisters from Diablo Canyon in solidarity to join the fight to preserve their jobs and livelihoods.
"I'm here to save Diablo Canyon and to ensure that the power plant stays open so that we don't have to use fossil fuels," said Thomas Mora, a Customer Service Representative at PG&E's Fresno Contact Center.
Tamara Cacuyog, a PG&E San Rafael Service Clerk, shared that, "I'm here to support Diablo Canyon! We want to keep it open because we need the energy."
***
As formal proceedings were about to commence in the Assembly and Senate chambers, IBEW 1245 members packed the upper gallery of the Assembly. Near the end of the morning session, at the request of CA Assemblyman Jordan Cunningham (R-San Luis Obispo), a strong ally of IBEW 1245, the Speaker of the Assembly recognized the large contingent of IBEW 1245 special guests in the Hall. The 110 IBEW 1245 union men and women stood and faced Legislators, who responded by standing, looking up to the gallery, and applauding.
The floor debate was championed by Cunningham, as well as Asms. Chris Holden (D- Pasadena/Claremont) and Bill Quirk (D-Hayward).  In the Senate, the effort was led by IBEW 1245's longtime friend and ally, Sen. Bill Dodd (D-Northern SF Bay/Southern Sacramento Valley). After a tense debate, the measures passed the Assembly and the Senate by a landslide vote of 67-3 and 30-1. As of this writing, the package is awaiting Governor Newsom's signature.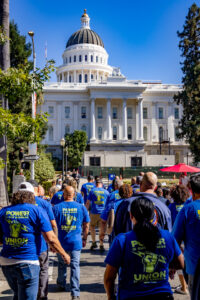 "I'm really pleased to see the number of elected representatives who are with us," said Garris. "And I'm just so grateful to be part of a union that is willing to fight for all of us."
IBEW 1245's union leadership has invested years developing strong coalitions and relationships with legislators on both sides of the aisle to advance the interests of the membership and safe, reliable energy for communities across California and Nevada. IBEW 1245's Organizing Stewards have added to the political muscle by participating in strategic campaigns for candidates willing to go on the record in support of workers' rights. The strong showing at the Capitol was evidence of the political power that 1245 has built over several decades.
"The importance of this win cannot be overstated! This is a great example of what we can do when we work together," Dean declared. "There is still much to be done, but this is a great day for our members and for all PG&E employees at the plant, as well as our climate and our communities. My heartfelt thanks goes out to all of the members and staff that showed up to help in Sacramento, as well our lobbyist Scott Wetch, and Assistant Business Manager Hunter Stern."
"We also want to thank Governor Gavin Newsom and his Administration for their leadership and support of jobs and the transition to a clean energy economy, as well as the Senate and Assembly leadership for their collaboration and support of these bills," added Stern. "They are complex, detailed and required input from a large number of important stakeholders. Local 1245 provided needed input to make certain these bills will benefit all the customers we serve."
Lula Dodd, a 42-year IBEW 1245 member and shop steward who works as a senior administrator at Diablo Canyon, kept her co-workers at the plant updated throughout the day through a series of text messages and photos.
"All of the feedback I received was extremely positive, and the members at DCPP were very appreciative for the work being done by the IBEW staff and organizing stewards on their behalf," she said. "Many members did not realize how much work and effort is still going on behind the scenes by their brothers and sisters in an attempt to extend the life of the plant and protect their jobs, and they're very thankful."
–Eileen Purcell, IBEW 1245 Senior Advisor to the Business Manager
Photos by John Storey
"Save Diablo Canyon!" @IBEW members are greeting lawmakers outside the CA Capitol ahead of a vote on the future of the Diablo Canyon nuclear power plant in San Luis Obispo County. @GavinNewsom wants the plant to remain open for at least 5 yrs past its initial closing date in 2025 pic.twitter.com/3TbHXpKYZl

— Eytan Wallace (@EytanWallace) August 31, 2022