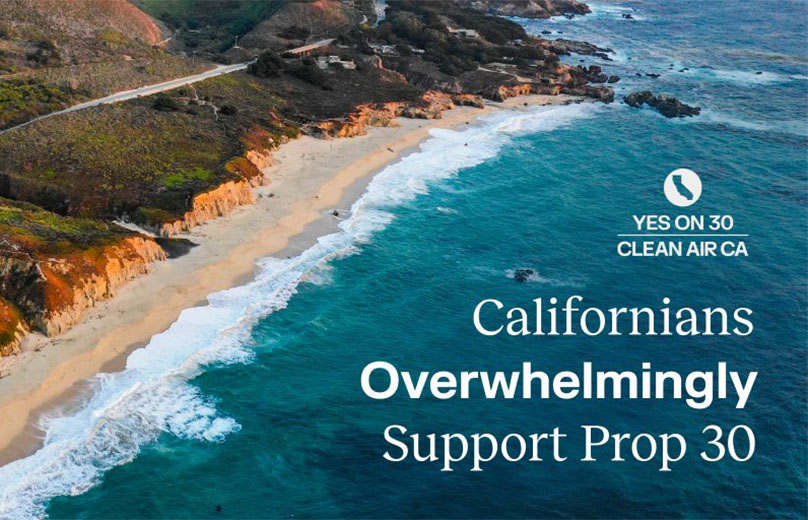 Californians understand the urgency needed in the fight against climate change by reducing emissions from vehicles and wildfires— and new polling shows it. According to the Public Policy Institute of California, the Prop 30 ballot measure garners 2-to-1 support among California's likely voters.
IBEW 1245 is a proud supporter of Prop 30 because we know how important this action is for Californians from all over our state.
What is Prop 30 all about?
Climate change is devastating California with prolonged droughts and increasingly catastrophic wildfires that cost lives, destroy property, hurt our state's economy, ruin our air quality and damage public health. The air quality in California has become among the worst in the country, posing a hazard to public health and eroding the quality of life in every region of the state.
These impacts are felt by all Californians, but particularly by low- income and communities of color. All Californians deserve clean air.
To solve this crisis, we need to address two main sources of air pollution and climate change emissions in California: transportation and wildfires. We need an immediate, sustained investment to 1) prevent and fight wildfires, and increase community resilience, and 2) accelerate an equitable transition to clean transportation.
To address these issues, a coalition of labor organizations, including IBEW 1245, as well as environmental groups, firefighters, public health advocates, environmental justice organizations, and businesses are supporting Prop 30, the Clean Cars and Clean Air Act (CCCA), for the ballot this November. The Act provides roughly $100 billion in new revenue over the next 20 years:
$20 Billion to fight and prevent catastrophic wildfires
$35 Billion to expand EV and ZEV charging/fueling
$45 Billion for subsidies to help consumers & organizations afford clean vehicles
The Act requires that half of the funding for the vehicle and infrastructure investments (or approximately $40+ Billion) benefits low-income and disadvantaged communities. The remaining funding prioritizes affordability for middle-income Californians, and the measure also provides billions for wildfire prevention, including "grants for home-hardening retrofits focused on low-income communities."
The funding source – increasing the tax on personal income in excess of $2 million by 1.75%, affecting only about .1% of Californians – ensures the funding comes from those most able to afford it and the costs are not passed through to low- and middle-income families in the form of higher prices.
For more information, please contact info@cleanairca.org or visit www.cleanairca.org.