On a hot Summer day in July at the NV Energy Sparks Regulator Station, an annual maintenance checkup is conducted on the regulators (regs) on the low-pressure side. As natural gas flows through the system, the regs control gas pressure by opening and closing, which allow more or less gas to flow.
For safety reasons, these regs must be checked regularly in order to ensure proper functionality.
"If the regs do not lock up and they fail, then we will go in and replace the boots, diaphragms, and our pilots," explained Gas Pressure Operator Shane Lyon, a member of IBEW 1245.
The facility takes high pressure gas from transmission lines, which can be upwards of 800 psi, and safely cuts it down to a distribution pressure of 90 psi.
"We're dealing with high pressure gas and we're the ones that are cutting it down," said Lyon. "We're feeding an entire city between Reno-Sparks. These are the big regs feeding everything that feeds everybody's house, regulator, and meter."
For Lyon, this is the first union job that he's had in the gas utility industry, and can see the difference the IBEW has made in his day-to-day work life.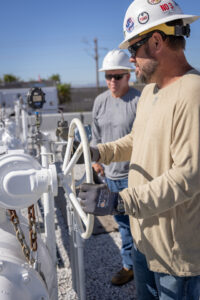 "You have a union that's there to back you for anything, whatever reason, or answer any questions. And coming from a non-union company, you didn't have that," he said, "You were kind of just left out to dry and on your own. You're just a number, like you didn't exist. [With IBEW representation] Wages are better…We have the backing of the union. And that's why a lot of guys from these other companies are coming to [work with] us, for that reason."
Being part of the brotherhood, Lyon appreciates that he has the full weight of the IBEW in his corner. "We have people backing us, fighting for us, to keep us with the jobs that we have."
Photos by John Storey