After 13 years on staff as an IBEW 1245 organizer, Fred Ross Jr retired from his position with the union this winter.
Ross has organizing in his blood. His father, Fred Ross Sr, worked closely with Cesar Chavez at the dawn of the farm worker organizing movement, and is widely recognized as one of the key players in the development of the United Farm Workers union. Ross himself also worked for the farmworkers, as well as several other unions, before joining the IBEW 1245 staff in 2009.
At that time, then-Business Manager Tom Dalzell hired Ross to help fight back against company attacks on NV Energy retirees. That campaign ended up a rousing success, and proved to be a turning point in IBEW 1245's history. From that campaign, Ross and fellow organizer Eileen Purcell developed, launched and grew a landmark member engagement and power-building strategy that eventually blossomed into 1245's nationally recognized organizing steward program.
Under Ross' tutelage, the 1245 organizing stewards have propelled IBEW 1245 into the forefront of union organizing, and other unions all across the country are now striving to emulate the organizing steward program in their own locals.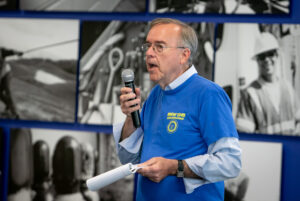 "The organizing stewards have been a real joy to work with, along with our amazing organizing staff. They have been the lifeblood of our union's leadership development and member engagement program," said Ross. "I'll miss that feeling of camaraderie and solidarity and purpose, that focus on building a stronger labor movement, and a stronger IBEW 1245."
Although he has reached the end of his union career, the legacy that Ross has built at 1245 will live on for generations to come. His message to current and future organizers? Never forget the passion that drives you.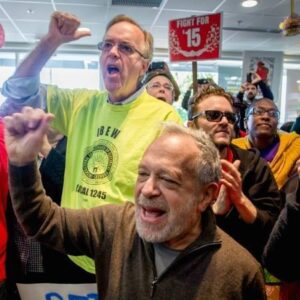 "As organizers, we must always remember why we do this, why it's important, and we need to communicate that with our coworkers and people we're trying to motivate and recruit to join the cause," he said. "Because when it comes from the heart, it's the most effective."
In his retirement, Ross is looking forward to spending more time with his family, and is also working on a new documentary about how his father inspired generations of organizers to fight for change.
Parting Words in Honor of Fred Ross' Retirement
Fred's innate ability to bring people together over a shared goal has been pivotal in transforming 1245 into one of the preeminent organizing locals in the United States. His knowledge, enthusiasm and "learning by doing" approach has given us unparalleled power wherever decisions are being made that impact our members. Despite being arrested dozens of times while fighting for workers, Fred's drive for change has never faltered, and we are grateful and fortunate for everything he has done for our union, and especially our dynamic army of organizing stewards. – IBEW 1245 Business Manager Bob Dean
When we launched IBEW 1245's Organizing Program 13 years ago we didn't know that it would become a nationally recognized, intergenerational, hands-on, leadership development initiative. From leading the member-driven fight in Nevada to protect 1245 retirees to building IBEW 1245's Organizing Steward program, Fred has made 1245 a formidable force to be reckoned with. He has used his organizing savvy and expansive sets of relationships across labor, political, academic, and faith-based communities to build solidarity that has translated into key victories for our members and all working families. IBEW 1245's reputation as one of the best unions when it comes to representation has now been expanded to be one of the most effective unions when it comes to organizing because of Fred's work.  The key? Relationships. Not just organizing relationships, but friendships. The Brotherhood and Sisterhood.  Congratulations on your retirement Fred! Thank you for all the work and for the friendship! May the next chapter be as rewarding! – IBEW 1245 Senior Advisor (and longtime organizer) Eileen Purcell
Working with Fred has been a blessing. He is IBEW 1245's version of Good Trouble. The lessons i learned from him will impact not only myself but my children as well. I am thankful for every minute he spent teaching me how to be a better organizer. – 1245 Organizing Steward Brandon Fosselman
It has been an honor and a privilege to be mentored by Fred Ross Jr.  I want to thank him frown introducing me to my love for organizing.  I am and forever will be "Fired Up and Ready to Go"! — 1245 Organizing Steward Laquania Q Thompson
There are people that you meet and work with that catapult you to the next level. They inspire you to act for change for the good. To step up! To defy the odds! Fred Ross Jr is one of them. I am grateful to have met Fred Ross Jr. Thank for your service brother! — 1245 Organizing Steward Arnaldo Lizarraga
I would like to give many thanks to Fred Ross Jr. for being the fire starter in my Organizing career. His passion and perseverance for Organizing and people power inspired me to do whatever it takes to contribute to IBEW and the labor movement. He made me realize the importance making a change in the community. I am inspired by Fred for contributing to our Organizing Steward program as a teacher, leader, and forever mentor. — 1245 Organizing Steward Alvin Dayoan
It was no coincidence that my "late in life" Union activism coincided with the tenure of our progressively innovative Business Manager, Tom Dalzell, who, in a fit of visionary genius, brought Fred Ross Jr to 1245. These two men, though only slightly my senior, soon became (unknown to them) my mentors and my heroes. The lessons they taught us and ideals they have set forth will forever live on in each of us. – 1245 Organizing Steward Kevin Krummes
Fred, I learned so much from you. You are an inspiration and example of how passion and power can effect change. Your leadership and dedication will be the fuel that encourages me to never fear getting into Good Trouble! Thank you for paving the way! – 1245 Staff Organizer Charlotte Stevens
Thank you Fred for all that you have done and will continue to do for all. Enjoy your retirement and keep your phone close by because I will absolutely be calling you to help us out! — 1245 Organizing Steward Valarie Moralez
Thank you for the amazing leadership, Fred! You will be missed around 1245, but I wish you the best on your well-deserved retirement. — 1245 Organizing Steward Brittany Santana
Every time I go out with that blue IBEW 1245 organizing steward shirt, the first thing people ask is, "Do you know Fred Ross"?  Followed up about some cool story about them and Fred going to jail or an amazing fight they had for the labor movement. Love you Fred, congratulations on your retirement! — 1245 Organizing Steward Foster Goree
When I think of the name of Fred Ross, I think of family. He will always be a part of my Union journey because of his passion and joyful spirit. — 1245 Organizing Steward Danielle Bonds
Fred, you changed our lives by showing us what we can accomplish when we turn our beliefs into action, and the power we have when we work together to make a better world — not only for ourselves, but for everyone. — 1245 Organizing Steward Rita Weisshaar
 Fred always took time to empower me through the art of encouragement. He is a master at pointing out the bright side especially when things aren't going according to plan. I wish him many well deserved happy and prosperous years of retirement. – IBEW International Director of Professional & Industrial Organizing Jammi Ouellette
Fred came into this local to mobilize and motivate young workers to continue to great work of organizing. He taught me the importance of follow-up and face to face interactions to recruit and mobilize our peers to get engaged. Wishing you all of the best in your new endeavors Fred and hoping we can continue to work together in the future.  – 1245 Assistant Business Manager Rene Cruz Martinez
I've known Fred since 1972 when we were both working for Cesar Chavez and the United Farm Workers – he as an organizer, me in the legal department. When I hired Fred at IBEW 1245, I knew what he could do, but didn't have a clear vision of what he could do specifically for Local 1245. Fred figured it out quickly, building the organizing steward program from the ground up, and our political power grew exponentially. We had something that few other unions could offer – trained, hard-working ground troops. Our almost unbelievable successes in Sacramento and Nevada and with PG&E during the bankruptcy are the direct result of the political power that Fred, Eileen, Rene, and the organizing stewards built for us. Fred leaves Local 1245 a better organization than it was when he came. He built power and changed hundreds of lives of members who have been involved as organizing stewards.  I thank him. – Tom Dalzell