California Results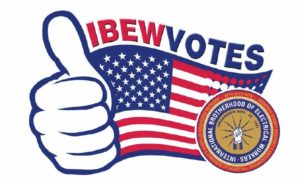 After 30 days election results in California are mostly, but not completely finalized. Incredibly, several very close races have either just been decided or, in the case of SD 16 and AD 47 races, ballots are still being counted and re-counted.
Local 1245 endorsed candidates did VERY well in this cycle. In Federal and State races, 1245 candidates won 81% of their races.
Given the number of open seats with highly competitive campaigns, that level of success is exceptional. The campaign work by 1245 Organizing Stewards and 1245's collaboration with local Labor Councils have helped these candidates considerably. Statewide, Governor Newsom and Senator Padilla won their races easily – these two candidates have helped elevate the interests of Local 1245 members in a major way and their re-election will continue to benefit us.
Wins
Key wins in Congressional races, re-electing Jim Costa to a new District and Kevin Mullen to an open seat, and in State Senate, Angelique Ashby in SD 8 and Aisha Wahab in SD 12, will help us greatly. We are waiting for the outcome of SD 16 where 1245 endorsed candidate David Shepard (R) trails by 12 votes out of 136,592 votes cast. The majority of the open seat races were in the Assembly, making those races more difficult to win. Yet, 1245 candidates won 30 out of 34 Assembly races. Big results included open seat wins by 1245 endorsed candidates Lori Wilson (AD 11, Solano County), Matt Haney (AD 17, San Francisco), Liz Ortega (AD 20, Hayward) Esmeralda Soria (AD 27, Merced/Madera/part of Fresno), Gail Pellerin (AD 29, Santa Cruz, Cupertino) and Dawn Addis (SLO/Monterey/Santa Cruz). Liz Ortega is especially big win because she is a Labor leader and committed to our interests.
In local races, we won very critical races for our members. We have had MAJOR problems at MID because of a majority of unfriendly Board members. 1245 partnered with our two allies on the Board to recruit three candidates to run for Board seats. Two of them, John Boer in Division 4 and Robert Frambose in Division 3 won, giving 1245 members four friendly Board members. Thanks to existing Board members Larry Byrd and Nick Blom and our Organizing Stewards working with the North Valley Labor Fed in winning these races. 1245 candidates at SMUD Board also won, turning back challenges from the Solar bullies. Rosanna Herber in Ward 5 and Gregg Fishman in Ward 3 won decisively; these Board members voted earlier this year to ratify our new SMUD contract.
Losses
Despite all the success, we experienced some very difficult losses. Tim Robertson, a Labor leader close to 1245 lost a very close race in SD 4 – he would have helped us greatly in the CA Senate where two 1245 friendly Senators have termed out. Adam Gray lost by 500 votes in a very important House race in Stanislaus/Merced/Madera counties. This was a winnable race and the House is very closely divided. We lost an important race when Sara Aminzadeh lost AD 12 (Marin/Sonoma) to an anti-PG&E candidate. We lost a key local race when Cindy Chavez lost the San Jose mayoral race in a City that is actively pursuing the launch of a municipal electric utility to take over PG&E retail electric service.
So despite the very excellent results, we still have work to do and will keep pushing to win these key races in the future.
---
Nevada Results
The Nevada ballot counting has been completed and we have good news. Local 1245 endorsed candidates did VERY, VERY well in this cycle. In the Federal and State races, 1245 candidates won 89% of their races!
Given the very intense nature of the campaign, with the results impacting the national political climate so greatly, it is absolutely a remarkable level of success. There was more money spent in Nevada than ever before and it was the third most in the nation during the 2022 campaign. Political spending in Nevada 3rd-highest in the nation; $312.5M spent since Aug. 1. The campaign work by 1245 Organizing Stewards and Staff, along with 1245's leadership in the campaign operation of the Northern Nevada Labor Council helped these candidates considerably.
We are all aware of the win by U.S. Senator Catherine Cortez Masto. Senator Masto was a target of Republican spending as the Senate race alone accounted for more than half of the amount spent, which helps explain the very close race. Keeping her in office is a major accomplishment and, given her support of IBEW energy issues on the Senate Energy and Natural Resources Committee, the most important win for IBEW 1245 members this cycle.
Loss
However, we were unable to re-elect Governor Steve Sisolak in office. Despite a very quick rebound of the Nevada economy after the COVID pandemic, Governor Sisolak lost the election by just 1.5% or 15,000 votes out of 1.1 million cast. I know from working with the campaign that Sisolak needed a roughly 60% turnout of registered voters. Unfortunately, the actual turnout was just under 55%. While there was a great deal of TV advertising and other "noise" associated with Nevada election, exit polling shows that Nevadans who were forced to wait months for unemployment checks blamed Governor Sisolak and either voted against him or didn't vote, contributing to the lower than expected turnout. With $312M spent, everyone knew there was an election!
Governor Sisolak was a good friend to IBEW 1245 and gave our voice added credibility. He signed 6 key energy bills that benefit 1245 members, none more important than SB 448 that ensures NV Energy will build the GreenLink transmission project which will provide 1245 members with at least 1,500 jobs for 3-4 years. He helped to transform Nevada into an energy powerhouse and his policies will provide more and more jobs to our members over the years.
Wins
Despite Governor Sisolak's loss, statewide pretty much every other candidate we endorsed won election. This includes 8 Republicans and 13 Democrats. We are very fortunate to have three labor union members be elected; Local 357 member Max Carter was elected to Assembly in District 12, Teachers' member Selena LaRue Hatch was elected in Assembly District 25, and Laborer member Skip Daly was elected to State Senate in SD 13. There are already 8 union members in the Nevada Legislature, so the "union" caucus continues to grow! We also had IBEW contractor Julie Pazina elected to Senate in SD 12. Endorsing both Democrats and Republicans means Local 1245 will be able to work with both sides of the aisle, very important when Democrats increased the numbers of Assemblymembers and Senators while Republican Joe Lombardo will be in the Governor's office. Also worth noting that 1245 supported both the new Speaker of the Assembly, Steve Yeager, and the Minority Leader Philip O'Neill from Carson City.
In Local races important for our members, Local 1245 endorsed candidate won as Mayor of Fernley (father of 1245 member) and as City Council in Ward 1. Unfortunately, Local 1245 member Neal McIntyre lost his bid for Lyon County school board. IBEW 1245 endorsed candidates also won races for Mayor of Reno and Mayor of Sparks, as well as two Reno Council seats and two Sparks Council streets. Two of these Council members sit on the Board of Truckee Meadows Water District and the other two are eligible, as is Mariluz Garcia who won her race for Washoe County Commission. So we now have better relationships with these existing and potential members of the Water District Board.
Despite the very challenging electoral environment in Nevada, 1245 was able to elect pretty most of the candidates we supported. The Nevada Legislative session is just around the corner and begins February 6. With these results, we are ready!
–Hunter Stern, IBEW 1245 Assistant Business Manager