After completing a pole change-out, a three-man IBEW crew working for Intren out of Sutter Creek was headed back to the yard when they noticed flames coming from a nearby intersection.
As they got closer, they could see a car on fire on the side of the road. Flames were coming from underneath the hood and tires in the front. They knew it wouldn't take long – or much – for the fire to spread to the field next to the car.
Without hesitating, the crew (who have requested not to be named) pulled over to assist. They felt fortunate to have been passing by in that moment with the means to help: they were towing a water buffalo that was holding around 400 gallons of water. It was not likely to be enough to fully extinguish the blaze, but it might help to temporarily contain it.
The crew carries around the water buffalo as a safety precaution. Each week, the company has them test the water buffalo to make sure it is working. Because of that practice and experience using it, the crew was prepared to address the emergency situation calmly and effectively.
In the few moments it took for the crew to reach the scene and pull over, the adjacent field had already begun to catch fire. The occupants of the car were out of the vehicle and away from immediate danger, so the crew could focus on containing the spread of the flames.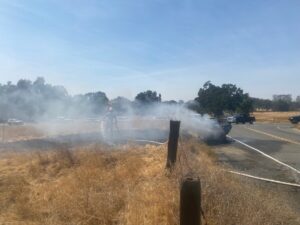 The IBEW members didn't waste a moment. As one member of the crew turned on the water buffalo's engine, the other two started unrolling the hoses. They got everything connected and began wetting the area, concentrating on the field. They did not bother with the car, as multiple fuel sources would keep it burning. But a fire in the dry field could have grown out of control quickly, so that became their main focus.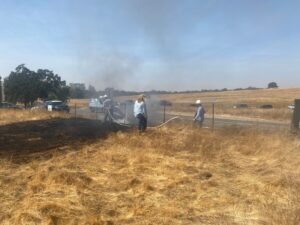 As the crew was working to extinguish the flames and hose down the field, a police officer arrived on the scene and informed them that the fire department was on the way. Soon, the fire department arrived and took over, and the Intren crew packed up. They had used up all of their water in just a few short minutes in an effort to contain the spread of the car fire. If they hadn't been in the right place at the right time, there's no way of knowing how fast or far the flames could have spread.
From changing out poles to acting as first responders, IBEW 1245 members have the training and experience to think on their feet, work together as a team, and act quickly unexpected and emergent situations.