Linemen are in high demand to perform critical infrastructure upgrades for a resilient 21st century grid — and growing the journey-level workforce of tomorrow means a big emphasis on apprenticeship training, right here and now.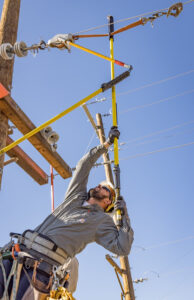 Apprenticeship is where the next generation of linemen acquire the skills and training needed to ensure they are capable of performing the job safely, reliably, and efficiently.
At NV Energy, the IBEW apprentices attend multi-week classes at their unique training facility in Reno several times throughout the year. The training program creates a strong foundation for apprentices to learn techniques, practice new skills, and hone their problem-solving skills on the job.
Journeyman Lineman Dominic Tanzi, who works as an apprentice trainer for NV Energy, explained the methodology behind the training program.
"Training starts off with the basics: here are some tools, here's how to use them and when to use them. And then we put them up in the air and start showing them proper technique and positioning. And then we go into putting cover on, the right way, the easy way, a way to make them think about what could potentially go wrong. We build on it day by day, making things a little more challenging. They have to start thinking their way through these problems."
Cody Drewry, an apprentice out of NV Energy's Elko yard, was enthusiastic about this part of his apprenticeship.
"This training is extremely beneficial," Drewry explained. "In Elko, as an apprentice, you don't get exposed to as many things as you do here in Reno. And by working with different linemen, you learn different tricks of the trade, different ways to do things."
Drewry grew up in a small farm town outside of Fresno called Corcoran. After four years in the Marine Corps, he wasn't sure what he wanted to do – but he got some advice from a lineman he knew, which changed the course of his life:
"He told me, 'Why don't you just use your GI bill and go to lineman college and see if you like it?' And that's where it all started," Drewry recalled.
Drewry completed Northwest Line College in Oroville and hired on as an apprentice at NV Energy two years ago. As an apprentice, Drewry earns wages and has benefits while learning all aspects of the trade, a process which takes around four years.
"I work hard, and I enjoy good work that you have to think about on a daily basis," he said. "And I like being on the wood. I like climbing."
For Drewry, one of the best aspects of apprenticeship is the IBEW 1245 union membership that comes with it.
"There are many good things that come with being part of the union. There's brotherhood aspect — I'm military, so that's what I'm used to and what I like. And there's the representation — That's one thing that saved me before in a situation I had," he explained. "Union work is the only way to go. I'll never work non-union a day in my life again."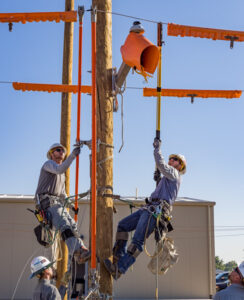 Tanzi, also a former military serviceman, recognizes the essential role he has when it comes to ensuring Drewry and the other apprentices under his tutelage go home to their families each night.
"Safety is on all of our minds every minute of the job," he explained. "We need to get back to our roots when it comes to being safety-oriented, through opportunities like IBEW 1245's peer-to-peer line safety program, Hold the Pull. Because one life lost is one too many in our trade."
Photos by John Storey