On Friday, July 16, the Tamarack Fire was ignited by a lightning strike in a wilderness area near the California-Nevada border, south of Lake Tahoe. The fire quickly spread to more than 68,000 acres and extended across the state line into parts of Nevada, destroying more than 120 power poles in California, along with another 80 in Nevada. As of this writing, the fire is 82% contained, and we have learned of one IBEW 1245 member, an NV Energy troubleman, who tragically lost his home to the fire in Holbrook Junction, NV.
---
The IBEW 1245 members at Liberty Utilities were involved in the Tamarack Fire response from the start, working with first responders to de-energize power lines as needed to keep firefighting personnel safe. On July 20, crews began working to rebuild the damaged infrastructure around the small Alpine County town of Markleeville, CA.
The Utility Reporter caught up with a Liberty crew in early August, just as they were finishing up the restoration work on a six-mile span of line, preparing to restore full power to Markleeville.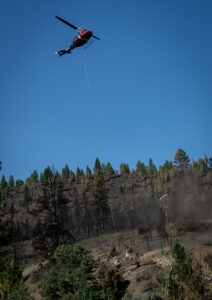 Liberty is a small utility, and due to the location and extensive nature of the restoration work, contractors were brought in to speed up what would have otherwise been a slow and arduous process.
"We have several crews from Rockstad, Summit and TW working with us, and we've flown in several poles," explained Liberty Line Foreman Marty Radekin. "We're in a very remote area, it's really tough, rocky terrain, so we had help from a company called Aztrack. They have great equipment for digging and setting poles … It's amazing that we were able to accomplish what we have in such a short period of time."
In his 49 years on the job, Radekin has worked his fair share of fires, but he considers this one to have been one of the more challenging restoration jobs of his career.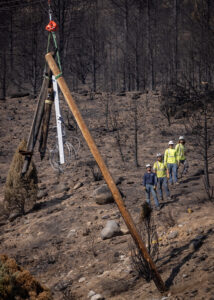 "It's comparable to the Angora Fire we had back in 2007 in South Lake Tahoe. It's a similar to that, only this is a lot tougher terrain to work in. Really difficult," he emphasized. "The digging is nothing but rock. Solid rock, lava cap, tough digging. Most of the holes were dug by Aztrack equipment, a lot of them. And we had another contractor, Summit, they've hand dug a lot of the holes as well."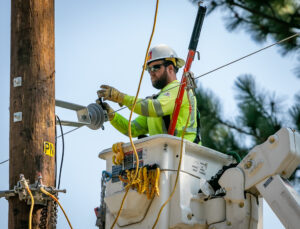 Radekin, who is planning to retire in early 2022, has seen a lot a lot of changes in his nearly five decades in the trade, and in his opinion, the most notable change he's seen has been the increase in battery-operated tools, which he hopes might help younger linemen avoid some of the injuries and subsequent surgeries he experienced back in the day when more things were done by hand.
As a foreman, Radekin appreciates the consistent skills and knowledge that IBEW members – both from Liberty, as well as the contractors – bring to the job.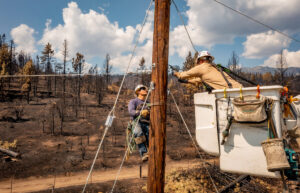 "I can tell you about the quality of linemen that we're getting here is really very good, and we're getting quality linemen from all over the country, too," he added, pointing out individuals who had come from as far as Missouri and Tennessee to work in 1245's jurisdiction. "The safety culture at the IBEW is second to none. Really a great emphasis on safety."
–Rebecca Band, IBEW 1245 Communications Director
Photos by John Storey