California
Work outlook for Outside Line (OSL) in 1245's jurisdiction remains very strong. Many linemen are working on the facility inspections (we saw close to 300 calls from Source Power and Rokstad alone for inspectors). The rest of the work is spread throughout the jurisdiction and includes all aspects of the trade through all of our represented properties, with PG&E being by far the largest.  We don't anticipate any slowdown in this work over the next several years.
Looking at the early numbers of 2021 — from January through March, we doubled our dispatch numbers each month compared with the previous year, with 1,531 dispatches through March 2021, compared to 855 dispatches through March in 2020.  In March of 2021 alone, Local 1245 had 754 total dispatches, compared to 306 total dispatches in March of last year.
With all the changes that were made to the dispatch process as a result of the Covid pandemic, we're able to looks at total numbers and see that there is compelling evidence that these processes work with very few issues, and will probably remain in place even when the Covid restrictions are lifted.
PG&E has recently awarded distribution contracts throughout their whole service territory, with most of the contractors who currently are on property receiving the bulk of the work.  There are two new contractors — Outsource and Edison Power — who were awarded some work on PG&E property. These two contractors were already signatory with 1245, however, they perform most of their work in California out of Local 47. As soon as we can get the breakdown of the areas with all the contractors, including Outsource and Edison, they will be posted.
PG&E will be launching an RFP for Inspection Services which will be for crew inspection work.  Details of this will be made available once the awards are made.
Tower Painting work is expected to resume in 2021 as well. This means we can utilize the Tower Painting Tech position that allows Line School grads to paint transmission towers under the direction of a journeyman.
Nevada
Work outlook in Nevada is very promising as we have seen more and more work released by NV Energy. There looks to be more 1245 union work in Nevada than we have ever seen.
Recently NV Energy had made a change in one of their contracts by awarding Sturgeon the supplemental lineman contract. However, due to the nuances associated with the dock lineman, Sturgeon has decided to step away from that portion of it, and that work will go back to Wasatch.  Sturgeon will continue to provide full dock crews for NV Energy; it's just the supplemental lineman portion Owhere the contractors provide lineman to fill in on NV Energy crews) that was the issue.
There are five different bids out for NV Energy transmission work, which is mostly around Donnor Lake, as well as a bid out for fire hardening inspections.  The fire hardening contract would be to perform inspections on 18,000 of NV Energy assets every year for the next three years. That contract has not yet been awarded as of this writing.
On Liberty Utilities property, there is a 200+ pole project out for bid right now for fire hardening work, including the installation of tree wire.  We should know who will be awarded this work soon.
There is a 200 MW solar project about five miles North of Tracy power plant, known as the Olinghouse Dodge flat solar project. Two different contractors are involved in this project, Michaels and Cache Valley.   Dodge Flat Solar, LLC has requested interconnection of a new 200-megawatt solar PV and energy storage facility to NV Energy's existing Valmy to East Tracy #1 345 kV line.  The interconnection requires NV Energy to construct, own, operate, and maintain a new 345 kV interconnection facility located east of the East Tracy 345kV switchyard in Washoe County, Nevada.   The scope of work includes construction of a new 345kV switching station, a 345 kV line, and associated telecommunication and protection upgrades as required to establish the point of interconnection.
In the near future, several major new transmission projects in Nevada will be built by 1245 labor and contractors:
Southwest Intertie Project (SWIP): The SWIP North project is the largest and final piece of the SWIP project that includes 275-mile of 500 kV transmission line in Idaho & Nevada and links PacifiCorp, Idaho Power and BPA to CAISO.  This project is nearly construction ready and could be online as early as June 2024.  We anticipate this to go to bid later this year with a start date sometime in the second or third quarter of 2022.  Of the 275 miles of line 200 miles of it or 75% of the line will be in 1245's jurisdiction and the remaining portion will be in Local 449 out of Pocatello Id.  We will be working with Local 449 and Western Line NECA just as we did with Local 396 on phase one of this project to put in place a Project Addendum which would utilize Local 1245 as the dispatch point and the 1245 agreement due to majority of the line being located in our jurisdiction.
Greenlink Nevada: The recently PUCN-approved Greenlink Nevada consists of two 525kV transmission projects and three 345kv lines.

Greenlink West will be a 525kV line that spans approximately 350 miles from Las Vegas to Yerington
Greenlink North will be a 525kV lines that spans approximately 235 miles from Ely to Yerington
Greenlink Nevada will also include three 345 kV lines from Yerington to the Reno area
These projects are a $2.5-billion-dollar investment by NV Energy, and is projected to generate $690 million in economic activity and create thousands of jobs for our members.  We will be watching the progress of these projects and will share more information as it becomes available.
Signing the Books at the Hall
Until further notice, the doors continue to remain locked all day and a security guard regulates access to ensure there are not more than two people in dispatch at any given time. You will be required to wear a face covering, have your temperature taken, and sanitize your hands before going into dispatch or any other area of the Hall.  These changes, as well as others, were born out of necessity to deal with the Covid outbreak and to ensure the safety of everyone, especially our dispatchers.  Sign-ups are now done electronically by the member from the safety of their vehicles.  When you show up to the Hall there is a menu stand with instructions about how to re-sign and sign the books. Please click here for details.
Dispatch hours are 7am – 9am and 1pm – 4:30 pm. Applications received after 4:30 pm will be sent out the next business day.
As of April 6, 2021 there was a total of 1,531 calls made so far this year.
889 Lineman calls
375 Groundman calls
80 Line EQ man calls
76 Apprentice calls
83 Sub Tech calls
16 Fab Tech calls
5 Tower Painting Tech calls
7 Cable Splicer calls
Unit Meetings
We will continue to have the General Unit meeting at the Hall the first Tuesday of the month at 7:00 pm, outside in the parking lot under the Lineman's Club sign.  If you plan on attending, you will need to bring your own chair, and these meetings are all weather permitting (if it's raining, there will be no meeting.)  We are keeping a close watch on the states guidelines and we are making plans to get back to normal as soon as we can.
Safety and Red Book Update
All the 1245 Business Representatives have the new Red Books for distribution.  This book contains all the new revisions and had been a long time in the works to get to completed.  If you need these Books, reach out to one of the Business Representatives so they can get them to you. The new books can be identified by the Yellow Stripe towards the bottom of the cover that contains the new amended date of July 1, 2020.  If anyone still has one of the older versions without the Yellow Stripe, we are asking to please remove them from the jobsites as there have been a lot of changes and the old Books are no longer valid.
We have seen a sharp increase in accidents, Red Book violations and circuit interruptions. Our Reps have been a part of PG&E investigations involving two boom strikes — one being an extended reach forklift booming into a 115 Kv line at a substation. Other issues have been crews not installing grounds, inspectors not ensuring public and crew safety, watching critical task while on the job site. Listed below are a few Red Book items that we have seen not being followed.
Foreman Roles and Responsibilities

Section 1.02 (Page 1)

"… each supervisor or foreman shall make certain all employees under their jurisdiction are instructed and advised concerning the applicable rules and their application."

Section 2.02 (Page 19-20)

"Foreman: while live line work is in progress, the foreman's sole responsibility shall be to observe activities from the ground."

Equipotential Zone (EPZ) Establishment

Section 2.07 (Page 23-27)

"Note: In all cases, an Equipotential Zone must be established."

Permanently Grounded Objects for Use

Section 2.07, (7), (b), (i – iv) (Page 23-27)

Substation ground grid
4-wire multi grounded primary neutral
Grounded steel structure
A temporary ground rod / screw ground installed to a minimum depth of 4 ft.

Section 2.15, (c), (2) (Page 34)

"All personnel who may handle the butt of the pole shall wear approved rubber gloves and sleeves rated for the nominal voltage of the line whether or not cant hooks or slings are used."

Rubber Gloving to 21 KV

Section 2.21, (a), (14) (Page 40)

"Jumpers with or without pickup heads, shall be considered un-insulated."
Class 2 rubber gloves, with protectors at a minimum, shall be worn on voltages up to 17kV phase to phase. Class 3 rubber gloves at a minimum shall be worn while working on energized conductors from 17kV up to 21kV phase to phase.
4 Combination Rubber Glove / Live Line Tool Methods

Two qualified employees in an insulated bucket or on a insulated platform(s)
One qualified employee in an insulated bucket and one qualified employee on an insulated platform.
One qualified employee on an insulated bucket using Rubber Gloves and one qualified employee on the pole utilizing Live Line tools

The following combination is prohibited

One qualified employee on the pole utilizing Live Line Tools and one qualified employee on an insulated platform utilizing Rubber Gloves
Not everything is negative that we are finding in the field, and we are not looking for just the negatives. We want to point out the positive observations from field as well:
Tailboards

Looking much better across the board. Ensure we are providing accurate info.

Communications

Some contractors are purchasing satellite phones / GPS units to communicate in non-cell coverage areas.

Reporting of issues

If issues / questions arise in field, please reach out to resolve / clarify them. The question you have today, will be the question your brother asks tomorrow!
There is and will continue to be an intense focus on safety with a zero tolerance for flagrant violations.  The 1245 Examining Committee remains busy dealing with safety violations by bring the offenders into the hall once a month to correct these habits before allowing them to go back to work.  In several instances, members have been required to take additional training.
CalNevJATC
On March 29, 2021 the CalNev JATC opened the 10-day application period. At the time of this writing, I don't have the numbers of applicants that applied or met the requirements, but we do know there were more than 500 applications received in the first few days. Once the JATC has everything sorted, notices should be going out to schedule interviews.
A recent communication from the CalNev JATC on the practice of apprentices working alone in a separate bucket truck was just sent out to all contract managers.  The communication reads as such and will be strictly enforced so please take note.
"Frequently the question is asked "Is a hot apprentice allowed to operate a bucket alone during hot work.?" In formal language, can an apprentice of step 4 or higher conduct aerial operations solo in a bucket truck, even within close proximity of a supervising journeyman lineman capable of rendering immediate assistance while within the minimum approach distance of energized voltages in excess of 600 volts?.

The position and policy of The California Nevada JATC is that this work practice is NOT allowed.

Anytime an apprentice is within the primary zone in a bucket truck, he/she is to have a supervising journeyman lineman in the same bucket truck.

Please help us distribute this policy by sharing it with your general foreman, foreman and lineman. We appreciate your understanding and thank you in advance for accommodating this policy."
Current apprentices report as of April 6, 2021:
580 outside line apprentices registered in our JATC program
4 traveling apprentices in Cal Nev's jurisdiction
1 apprentice traveling outside our jurisdiction
172 Apprentices working out of Local 1245
356 working out of 47
16 working out of 396
7 are unemployed, 25 are not available to work for various reasons and 3 are on a leave
There have been 21 apprentices graduated to Journeyman Lineman since January 1, 2021
There have been 22 new apprentices indentured as outside line apprentices in 2021
Update on the New Northern CalNev JATC facility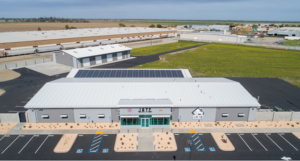 This new facility sits on 13-acres that was purchased last year by the CalNev JATC and will have a 12,000 square foot state-of-the-art training center. The new facility address is 545 Santa Anita Dr. in Woodland, California.
During the first week of April, the new Northern JATC facility passed all its inspections, and we now have certification of occupancy and are in possession of it.  It has been a long time coming, and it is a remarkable facility.  The directors and a few instructors went through a two-day intensive training session to go over all of the bells and whistles in the beautiful facility that will train future linemen for years to come.  There is still some interior design work going on and work in the training yard still needs to be done, however on April 17, the first Saturday class was held there.  This is part of a soft opening, with plans in the fall for a Grand Opening celebration, so please stay tuned.
Outside Line Construction Injured Workers Fund (IWF)
In the past three months, the Fund has paid out 10 claims.  However, the Fund has received numerous other claims that are either pending because the required documentation was not received, or denied as the member did not meet the eligibility requirements. When submitting a IWF application, please make sure to read all the eligibility requirements and provide the required documentation with the application to avoid further delays.
To request an application please email IWF@ibew1245.com or text (707) 452-2720; please include your first & last name and card number.
Organizing
The following companies have signed an agreement with Local 1245 since January 2021:
California Outside Line Construction Agreement:
NV5, Inc.
Tower Power Group
National Powerline
Legion, LLC
Prime Electric, Inc.
Dispatch
Please call the Hotline after hours for daily counts related to actual numbers on the Books.
All 1245 OSL members are encouraged to sign up and register your own personal account through the Local 1245 website. Once registered, you will be able to check your books status, make changes to personal information, pay union dues and even check on available jobs without having to call the dispatch office for this information.  This is a very useful tool for our OSL members.
Please call the hotline for details on all available calls.