In November, several IBEW 1245 outside line crews from Michels Pacific Energy were sent up to a residential area of the Santa Cruz mountains to change out a series of utility poles. But anyone who's worked in and around Ben Lomond knows that the mountainous terrain presents several significant challenges.
"The roads here are very tight, not even wide enough for our trucks to go through … so we're trying to get every crew to the point where they don't have to constantly be moving back and forth because of how tight it is," explained Foreman Isaac Torres. "We have to take that into consideration, and we're also making sure we're not hitting any of the trees with our buckets, or ripping off house services or phone services, or damaging our equipment because of all the low hanging limbs."
With 16 hands on the de-energized job, the logistics become even trickier.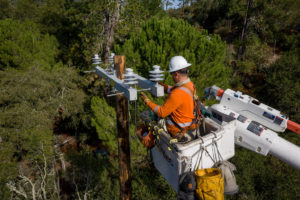 "What's hard about this job is having multiple crews, multiple locations, making sure we can communicate with everybody on what time we take this outage, when they're able to go up, take the testing ground," said Torres. "We're just trying to stay out of everybody's way, as well as staying out of the way of the customers … because on these roads, it's one way in, one way out. If there's an emergency, we have to be ready to move our equipment as soon as possible, if emergency services need to get in."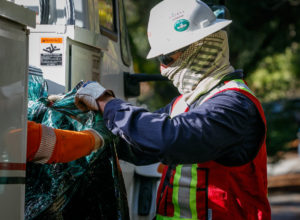 For Torres, a nine-year member of IBEW 1245, it's all in a day's work. And he appreciates the fact that he's got the IBEW in his corner.
"The union hall's within driving distance for me, so I can go there if I need to for any reason," he said. "[I appreciate] the interactions we have with our business reps, Richard Ingle and Ralph Kenyon, and the open communication line we have with 1245 is pretty great. If we've ever got any questions, we can always call them right away."
Photos by John Storey