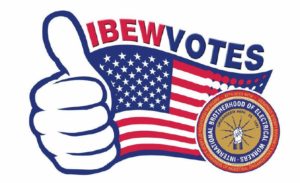 From its inception, organized labor has never backed down from a challenge – and the 2020 Election is a case in point. This year has perhaps been one of the most difficult years in recent memory, but the hardships we've faced only hardened our resolve to do everything in our power to turn this country around.
Working hand-in-virtual-hand with our union brothers and sisters across the county, IBEW 1245 participated the largest and most high-tech GOTV program in U.S. history. And while COVID-19 limited our ability to conduct in-person voter outreach, it also opened up new doors in the world of online organizing. Ordinarily, we would be limited by geographical constraints, but in a digital campaign environment, we were able to broaden our reach, contacting union siblings all over the country.
Using state-of-the-art software, union members were able to make calls and sent text messages to their fellow union members from the safety of our own homes. We participated in contactless canvasses, leaving pamphlets and literature on the doorsteps of thousands of union households. And we did the challenging and sometimes uncomfortable work of talking politics with our own families, friendship circles, and social networks. This powerful and united Labor front played a key role in the election of Joe Biden and Kamala Harris as the next president and vice president of the United States.
"There are no words that adequately capture the pride and joy we are experiencing with the work that our union members, retirees and staff did on the 2020 election — from the very local to the very national," said IBEW 1245 Business Manager Tom Dalzell. "Together, we lifted up candidates who are committed to supporting Local 1245 members, and we helped build the political power of Local 1245."
"The country is deeply polarized, perhaps more than it's ever been, and we have 1245 members on all sides. But as a union, I hope and believe that we can bridge the divide and move forward together," he continued, "because what unites us is far more important than any of the issues that might divide us. Our mission to help improve the wages, hours, and working conditions of our members will always transcend party politics."
"Meanwhile, with the new administration in Washington, we will have a place at the table where we can make our voices heard to advance the hopes and aspirations of all working men and women," Dalzell added. "We have direct lines of communication to the President-elect and to the Vice President-elect. The value of this access doesn't fit on a slide rule – it is huge."
---
IBEW 1245's GOTV program focused heavily on races that have a direct impact on our members working in the public sector. This year, we concentrated our efforts on the races for Modesto Irrigation District Board, Sacramento Regional Transit, SMUD Board, and City Council in Lodi, Lompoc and Alameda – all municipalities where hundreds of IBEW 1245 members work.
CITY OF LOMPOC: The 200+ IBEW 1245 members employed at the City of Lompoc have quickly become a force to be reckoned with in the local political scene. In the handful of election cycles they're participated in since joining 1245 in 2014, they've established and grown a bold pro-worker contingent in the city government. Thanks to the work of Local 1245 members at Lompoc, Business Rep Jaime Tinoco, and organizing stewards, Janelle Osborne is well ahead and appears set to be re-elected as Lompoc's Mayor.,  IBEW 1245 also backed first time candidate Jeremy Ball and he is well on his way to winning his race for City Council and will be the new representative for District 4.
MODESTO IRRIGATION DISTRICT: Our members employed at MID have had a strong ally in MID Board member Larry Byrd during the nine years he has served on the board. When Suzy Powell Roos declared her candidacy against Byrd in August, the race quickly became hostile. Two other MID board members showed us their true colors by attempting to smear Byrd with baseless accusations.
IBEW 1245 Organizing Stewards worked alongside the Local 1245 member at MID and Business Rep Sheila Lawton to support Byrd's campaign. Thanks to their work in getting out the vote, Byrd has handily defeated his challenger by around eleven percentage points. While this is a big victory for 1245, the campaign also revealed that we have more work to do to get a pro-worker majority on the Board, which is essential to achieve good contracts for our members at MID.
SACRAMENTO MUNICIPAL UTILITY DISTRICT:  Rob Kerth is the current President of the SMUD Board, and a reliable friend to the 1245 members who work there. With help from 1245, has moved well ahead of his challenger by more than 11 points, with nearly two-thirds of the votes counted, and will almost certainly win his election.
SACRAMENTO REGIONAL TRANSIT:
Gregg Fishman for Sacramento County Supervisor: As a Board member at the Sacramento Municipal Utility District, Fishman has shown himself to be a strong ally for our 400+ members employed at SMUD. His bid for Supervisor was Local 1245's highest priority race in Sacramento, a nd the work that Local 1245 did in turning out the vote clearly made a difference, but at press time, Fishman is trailing his opponent narrowly.
Maureen Craft for Elk Grove City Council:  Craft hoped to capture a seat on the SacRT Board in order to improve transit service in Elk Grove. Local 1245 and other unions worked hard to get out the vote for her, but at the end of the day she failed to garner enough votes in the five-way race.
Mai Vang for Sacramento City Council:  Local 1245 supported Vang in the Primary in large part because of her vision to rectify inequities in transit service in her area. Organizing stewards hit the ground running again for Vang this fall, and as of this writing, it appears that Vang narrowly leads, with just 249 votes separating her from her opponent.
CITY OF ALAMEDA:  When the IBEW 1245 members at Alameda Municipal Power (AMP) go into to bargain with the city, they know that they can count on support from Malia Vella and Jim Oddie, the two most staunchly pro-worker members of the Council. Unfortunately, these two incumbents faced a tough race and a crowded field, with three other candidates looking to take them out. Together with our organizing stewards and the Alameda Labor Council, we worked to get out the vote for both candidates. In this five-way race, Vella was the highest vote-getter and will retain her seat on the Council. Unfortunately, at press time it appears that Oddie will not secure enough votes to win back his seat.
CITY OF LODI:  IBEW 1245 backed longtime Council member JoAnne Mounce and new candidate Mikey Hothi for City Council in Lodi, where Local 1245 represents dozens of members but has struggled to secure a strong pro-worker majority on the City Council. Local 1245 organizing stewards and the North Valley Labor Federation assisted with getting out the vote in Lodi through literature drops, phone banking and more.  With roughly half the votes counted, Mikey Hothi has a clear path to victory, but Mounce appears to have been defeated.
---
The Fight Against Gig Worker Exploitation Won't End with Prop 22
Defeating Proposition 22 was California Labor's biggest priority in 2020. Uber, Lyft, Instacart and Doordash wrote this measure to create a special exemption for themselves from California law that requires app-based companies to provide basic protections to their workers, like minimum wage, unemployment insurance and workers' compensation. When these gig companies misclassify and exploit their employees, it shifts the cost burden onto us, the taxpayers, and it opens the door for more industries to follow suit, dragging down wages, benefits and workplace protections for more and more working families.
The gig companies shelled out more than $200 million on Prop 22, and much of that war chest was spent on misleading ads that made false claims about what the measure would and would not do. California's labor unions united in opposition to Prop 22, and put in extensive work to get the No on 22 vote out. Unfortunately, we simply couldn't cut through the massive 10-to-1 spending advantage that the proponents had, and the measure was approved by voters.
"We will learn lessons from this campaign and continue the important work of ending exploitation in the gig economy," California Labor Federation leader Art Pulaski wrote in a message to supporters the morning after the election, noting that unions are already exploring legal challenges to Prop 22. "We'll come back stronger and continue to fight every single day for working people throughout our state. This disappointment will not weaken our resolve."