When a huge storm walloped the Midwest in early August, leaving more than 100,000 people without power in the "Quad Cities" area of Illinois and Iowa, the local utility, MidAmerican Energy, put out a call for mutual assistance to help them bring the power back on.
Twelve IBEW 1245 members from NV Energy heeded the call, travelling out to Quad Cities the day after the storm to lend a hand. They were joined by a few Local 396 crews from southern Nevada, as well as numerous crews from several other Berkshire Hathaway-owned utilities (Berkshire Hathaway owns both NV Energy and MidAmerican, among others) and several local contractors.
After arriving in Davenport, IA, the Local 1245 crews teamed up with liaisons from MidAmerican, and quickly went to work in the communities that were hardest hit by the "derecho" – the term used to describe this unusual storm system, marked by 100-mph winds that left a path of destruction stretching hundreds of miles long.
Eighteen-year IBEW 1245 member Zachary Romeo, a line foreman with NV Energy, has been on mutual aid assignments before, mostly in California. Storm restoration work is nothing new for him – but working in the unfamiliar midwestern terrain was a far cry from he's accustomed to at home.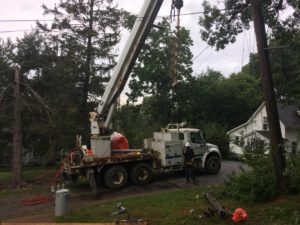 "When we work on storms [in Nevada], we usually get a circuit or a radial on a circuit, and we can see the lines, poles on the ground, and wire damage, for however long that section is," said Romeo. "But where we were in Illinois — we worked out of the East Moline yard — the trees were so dense, we couldn't see anything for very long because it's flat and just trees. The tree damage was just so heavy."
The terrain wasn't the only thing that was different. Romeo observed several aspects of the MidAmerican distribution system that differed from the system at NV Energy.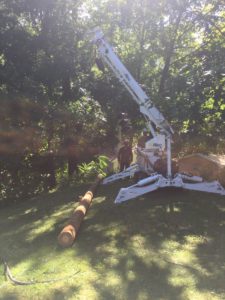 "As linemen, we have a tendency to stare at power lines no matter where we go. And so it was no different there," he said. "Driving around, you could see the different construction and probably see some things you like and some things that are just a little bit different than home. That part is always entertaining for us linemen."
As the father of five, being away from his family for the nine-day mutual aid assignment was somewhat bittersweet for Romeo.
"One of the reasons I work for the utility is so I can see my kids every day, and I can come home to my own bed every night," he explained. "So for me, [the mutual aid assignment] was a nice opportunity to go and help out another utility restore power — and the kids always enjoy the stories and what happened out there."
A proud union member, Romeo recognizes the intrinsic value of IBEW 1245 representation on mutual assistance jobs like this one.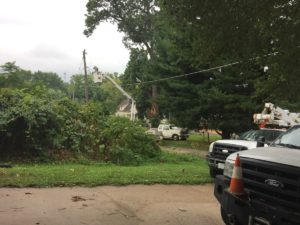 "As a lineman and as a foreman, when we go on these out-of-town assignments to help with storm damage, having that background in safety — which is ingrained because of the union — it provides a very safe environment when we get there, because we're able to have our own protections," said Romeo. "We truly do watch out for one another — and I definitely 100% attribute that to the mentality and mission of the union, that all of us come home safely."
-Rebecca Band, IBEW 1245 Communications Director
Photos by Zachary Romeo