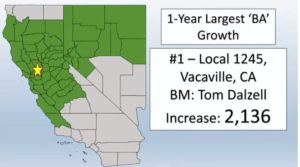 At the 2020 IBEW International Membership Development conference (held on Zoom), IBEW Local 1245 was recognized by the IBEW International Office multiple times for our remarkable membership growth.
In 2019, Local 1245 added more 'BA' members than any other IBEW local, a whopping 2,136-member increase over the previous year, and our local also nabbed the #2 spot for 'A' membership growth. Additionally, Local 1245 was commended for having the largest total membership growth of any IBEW local over the past five years — a net increase of 6,342 members over that time period.
Business Manager Tom Dalzell accepted the award remotely on behalf of 1245.