WORK PICTURE
 California
2019 was a record year for employment in Local 1245's Outside Line Construction group. This past year — which really began in December of 2018 and was full bore all the way through the end of 2019 — Local 1245 saw a record number of more than 7,000 dispatches, as well as record man-hours, which would be difficult to replicate in 2020. In 2019, most of the contract lineman were working six and seven 12-hour days, and Local 1245 appreciated the call for workers during this time especially with all the uncertainty at Pacific Gas and Electric as they navigate through the bankruptcy process. It was a very busy year for everyone!
2020 is starting out a little differently than 2019, with rather large reductions in the contracting workforces and hours being reduced to five 10-hour days for most contractors. We are expecting to see some more reductions through the first quarter of 2020 which is a result of a couple factors. PG&E is behind on job packages and with all the changes within the company, their 2020 work plan is not where it should be. Local 1245 at this time believes that we will continue to see this slow down for the next two to three months, before we will start to see the work come back — but not to the same numbers we saw in 2019.
This doesn't mean the work has dried up, and we continue to expect increases in the future as the work is here and hasn't gone away. We are in the middle of Northern California storm season, inspection work is expected to begin in late February for some of the fire areas, the 2020 arrestor program will begin begin shortly, and there is still a significant amount of fire hardening work that needs to be completed that is part of PGE's 15-year plan (which is now in year 14). Initial estimates calculated a little over 7,000 miles of line in the most critical fire areas that needed to be rebuilt or hardened to reduce the fire risk. Simple math would indicate that in order to meet those objectives, there would need to be 500 miles of rebuilding and hardening per year to reach the 7,000-mile goal in 14 years.  The 2020 goals for this project are between 175 to 195 miles, which seems to be a tall task given the delayed start in the first part of the year. Even if this goal is achieved, it seems to be, from a mathematical standpoint, pushing larger numbers into future years.
With the reduction in hours and days after the demand that was put on the workforce 2019, for the most part there seems to be a sense of relief among many we have spoken to as it gives them a time to recharge themselves.  2019 didn't go off without incident, as we did lose two young journeymen in two separate events as they came here to help with the issues we faced.  These linemen who paid the ultimate price will be missed by family and friends, and their passing is a stark reminder of how dangerous this industry is.
Nevada
All of 2019 work in Nevada has been difficult man, due to the payment of quadruple sub and seven days a week in California. The work had slowed toward the end of the year, and it is uncertain whether or not it will carry over into the new year. Some of the utilities in the surrounding area are starting to perform some fire hardening work in wake of the fires and related litigation in PG&E's territory.
PAR has doc crews and linemen in North & South Lake Tahoe working for Liberty Utilities. They also continue to work on NV Energy fire safety projects in Tahoe and Elko. In 2020, NV Energy and Liberty Utilities are looking to expand this program creating even more work for our outside contractors. PAR has been working on the tier three fire inspections, creating approximately 6,500 repair tags to be completed. PAR will be staffing up to complete this work in the time allotted by NV Energy.
PAR has completed their 120 KV transmission line between the Steamboat substation and the new South Meadows Sub. PAR is well under way with two 4-25KV cutovers that were supposed to be completed by the end of the year but have been pushed back due to the fire inspections.
Wasatch still has 40+/- doc linemen working at various locations for NV Energy. Wasatch also has a doc crew in Yerington & Winnemucca and a transmission crew. There are 7+/- sub techs and one tele-data tech working for NV Energy's substation group all over the system. Wasatch has completed their work on the 132 line without incident. NV Energy has requested Wasatch provide a quote for Troubleman in Tonopah. There is no language for this classification in our OSL contract or safety and working rules for trouble work. I instructed Wasatch to let NV Energy know that if they wanted something like that, it would have to be a line crew.
Titan has one crew working on gray wire replacement in Carson City for NV Energy. Titan has also been awarded a 4-25KV cutover in Reno. This project should carry them through the end of the year.
Summit is working on the TRIC 120 KV loop transmission line in the TRIC industrial park this project is approximately 10 miles of 120 KV. This project is moving along well with completion near the end of the year, with another section to be completed by the end of January.
TW Powerline has wrapped up their pole replacement job for Truckee Donner PUD.
Unit Meetings
Our unit meetings have been well attended for the most part with the increased numbers of workers in the jurisdiction as well as the increased number of apprentices who have been indentured into the program and working in the jurisdiction. Unit meetings are held the first Tuesday of each month at IBEW Local 1245 Ron T. Weakly Union Hall in Vacaville.
Business Representatives
All of Local 1245's OSL business representatives have been very busy handling all the issues that come with the increased number of workers in the jurisdiction.  With the reductions we are seeing, we anticipate an increase in issues associated with that.  There are three business reps in the field for OSL that are available to answer questions or handle issues if they arise.
Ralph Kenyon (Northern Area)
Casey Kelley (Nevada and the Sierras)
Richard Ingle (Southern Area)
Safety and Red Book Update
Red Book is in the final stages of the review process with a meeting scheduled for Jan. 23, where we are anticipating final approval from the full committee.  Once this final approval is done, we will be working to get them to the printers, and then out for distribution to those who want or need them.
JATC
CalNev JATC opened apprentice applications in October of 2019 for a 10-day period, during which there were almost 1,000 applications that were submitted and eligible for the interview process.  The first round of interviews is scheduled for the last week of February, and then will continue approximately every month until all are interviewed.  The recent slow-down in work in 1245's jurisdiction has resulted in reductions to the apprentices as well, and there is now a backlog of apprentices out of work.  New entrants into this program are dictated by the demand for apprentices in the field, and although interviews will take place as stated above, there may be a delay in new classes until the number of apprentices that are out of work are back working and the need for new apprentices is present.
Current apprentices report:
629 outside line apprentices are currently registered in our JATC program
8 traveling "hot' apprentices are in Cal Nev's jurisdiction
225 apprentices are working out of local 1245
317 are working out of Local 47, and 27 are working out of Local 396
55 are unemployed, 8 are not available to work for various reasons, and 6 are on a leave
83 apprentices graduated to journeyman lineman in 2019
326 new apprentices were indentured as outside line apprentices in 2019
The CalNev JATC has closed on a 13-acre property in Woodland CA, located at the intersection of Santa Anita Drive and Tanforan Avenue.  This property will be the site of the new 12,000 sq. foot state-of-the-art Northern California & Nevada Joint Training Center.  This has been a several-year process and the fourth site we're explored before finally landing this one.  Plans are underway and a general contractor has been chosen. We hope that this facility will be completed either at the end of 2020 or beginning of 2021.
As we work on building this new facility to handle the increased load of apprentices in Northern California, we have also set up a temporary Northern California Cal-Nev JATC Training site location in Sacramento CA, at the previous site of a Campbell's Soup facility. The building is 6000 sq. ft. which will allow us to handle the increased volume of apprentices and install our new Trans Banker transformer simulator.
The address is 6200 Franklin Blvd, Sacramento, CA 95824. To get to the building: If you're coming from Hwy 99 take the 47th off-ramp and head West on 47th. Once you cross Franklin Blvd take the first driveway on your right. The parking lot is 100 yards off of 47th on the left. The training facility is the larger of the two steel buildings.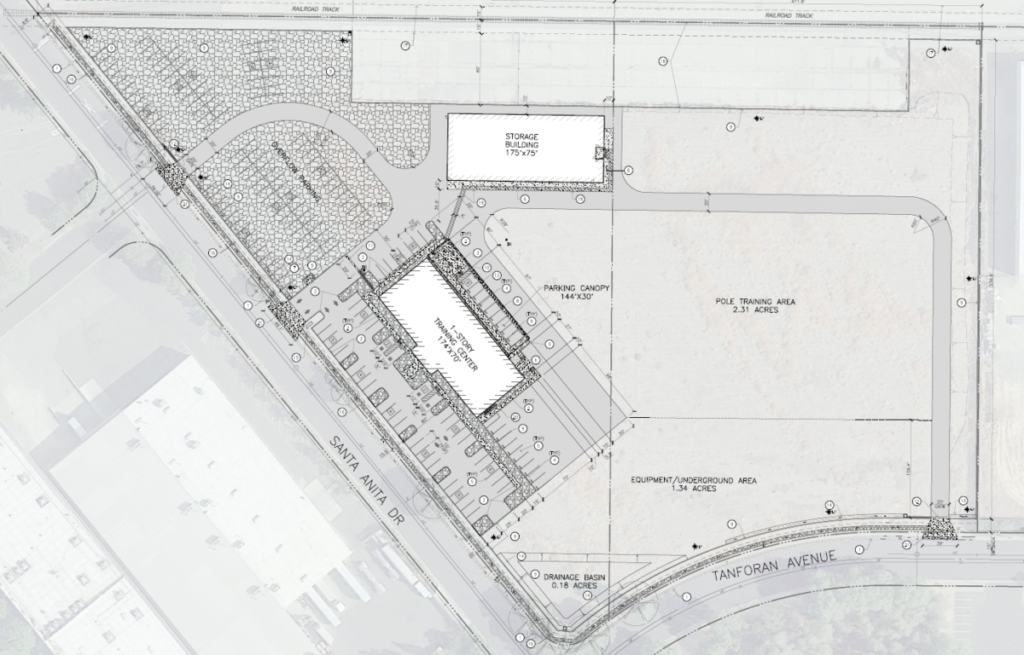 EVENTS CALENDAR
First Aid & CPR is the second Saturday of every month at our Riverside and Sacramento facilities.
DISPATCH
Please call the hotline after-hours for daily counts related to actual numbers on the Books.
All 1245 OSL members are encouraged to sign up and register a personal account through the Local 1245 website.  Once registered, you will be able to check your books status, make changes to personal information, pay union dues and even check on available jobs without having to call the dispatch office for this information.  This is a very useful tool for our OSL members.
Please call the hotline for details on all available calls!