It is with a heavy heart that we announce the passing of IBEW 1245 brother Corb Wheeler, who passed away the evening before his 84th birthday. Brother Wheeler was initiated into the IBEW in 1969 and worked as a business rep and assistant business manager at IBEW Local 1245 from the early 70s until the late 90s.
"He was a mentor for me as long as he worked for 1245.  I don't know if 'wry' or 'sardonic' is the best word to describe his manner, but he was both," said IBEW 1245 Business Manager Tom Dalzell. "Local 1245 is better and its members are better off because of Corb's work."
"He kept the brotherhood close to his heart and wanted all to become members. He believed that together we can accomplish more than when we are divided," said former Business Rep Bob Martin, who developed a close and long-lasting friendship with Wheeler. "I remember that he was always in a learning mode, seeking to discover new things. I confess, he taught me a lot about being patient and not wanting things done now … He was a great leader."
"An Excellent Representative"
Brother Wheeler held many assignments as a Local 1245 staffer over his lengthy career – but it was the work he did as business rep in the North Bay that left a lasting impact on former Business Manager Jack McNally.
"Corb organized a very effective shop steward system in North Bay.  The shop stewards and members had nothing but praise for him," said McNally, who was working as a business rep when Wheeler first came on staff.  "I remember Corb had all the qualities of an excellent representative."
McNally also recalled that it was Wheeler who recruited and developed Howard Steifer into a shop steward. Steifer went on to rise up through the ranks to eventually become president of the union in 1981. It was around that same time that Wheeler was appointed to the position of assistant business manager.
In addition to his vast array of PG&E rep assignments, ranging from Mission Division to Pipeline Operations, Brother Wheeler also helped organize several shops into the IBEW in the late 80s and early 90s, and he served on numerous committees, including Bargaining, Pre-Review, Review and Fact Finding Committees.
"When I came on staff as the staff attorney in 1981, Corb was handling PG&E Fact Finding. More than anyone else, Corb took me under his wing to explain the ins and outs of the PG&E contract," Dalzell recalled. "The first arbitration that I did for Local 1245 was at SMUD, and I did it because out outside counsel had concluded that there was no chance of winning and declined the invitation to present the case. Hank Lucas, the  Business Representative at SMUD at the time, felt strongly about the case.  I sat down with Corb, the SMUD MOU, and the grievance file — even though SMUD was not in Corb's assignment.  But he read the file, read the MOU, and quickly identified the factual and contractual arguments.  I presented the case and won the case that outside counsel had dismissed as unwinnable – all thanks to Corb."
Positive Attitude
In 1987, after 18 years on the job, Brother Wheeler suffered a stroke. He was off work for about six months, but upon receiving clearance from his doctor, he returned to his post enthusiastically, where he remained until the late 90s.
"His positive attitude about life — even with adversity — was one of his greatest attributes," said Martin.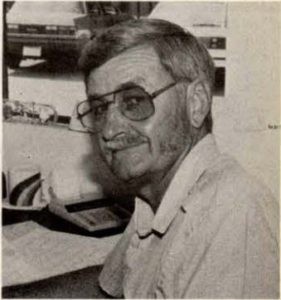 When he came back to work, he helped former Communications Director Eric Wolfe, who was new to the staff at that time, acclimate to the union.
"Corb was very helpful to me when I traveled in his assignment area for the Utility Reporter way back in the early 1990s. He introduced me to people at various job sites and tried to acquaint me with the types of issues that business reps encounter in the field," said Wolfe. "I remember Corb as being calm and methodical in his work, someone who really wanted to do right by the members."
An Oklahoma native, Brother Wheeler's family moved to a farm in the Sacramento area while he was still in school. After graduation, Wheeler joined the US Air Force, and served three years as Special Ops in Korea during the war. He retired with the rank of Lieutenant Colonel and subsequently received the Air Force Cross, two silver stars, and a medal from the French Government. In 2014, he wrote about his military experience for 110 Magazine (available here).
According to his friends and colleagues, he enjoyed spending time outdoors during his free time. He was a frequent fixture at union-sponsored camping, boating and fishing events, as well as poker runs.
Brother Wheeler's spouse, Sharlene, passed away just six months before he did. They resided in the East Bay, and he is survived by his children, Mark, Mike and Cindy.
–Rebecca Band, IBEW 1245 Communications Director