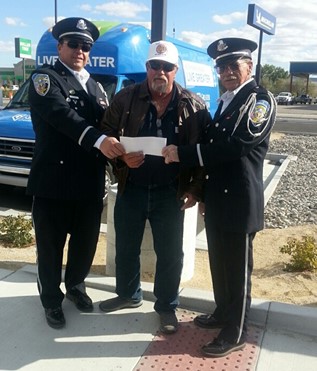 The Yerington IBEW Local 1245 Retirees Club made a donation to the Wreaths Across America in honor of our veterans who gave a portion of their lives for our country.
The laying of wreaths in Nevada is organized by the Nevada Veterans Coalition and is coordinated across America annually on the 2nd Saturday in December in over 1,000 locations simultaneously at 12pm. Presenting the donation is veteran and retiree Frank Reger representing the IBEW Retirees Club.
The laying of the wreaths is December 14, 2019 at the Northern Nevada Veterans Memorial Cemetery in Fernley, NV starting at 9am. There are over 8,500 veterans interred at the Fernley cemetery and the Coalition invites us all to help and participate in honoring these Veterans.
–Thomas "T" Bird, IBEW 1245 Retirees Club