The affluent Bay Area suburb of Orinda, CA is situated just outside the Caldecott Tunnel, adjacent to Tilden Regional Park. About 25% of the town is classified as a very high fire-hazard severity zone, and IBEW 1245 outside construction members have been assisting PG&E to harden the utility infrastructure in the hills of Orinda in order to mitigate the risk of fire.
Keeping an Eye Out
In mid-October, the Utility Reporter caught up with IBEW members from Alvah Contractors as they worked to replace dozens of poles in the highest-risk areas of Orinda. The pole work is a key component of a comprehensive reconductor project being overseen by PG&E.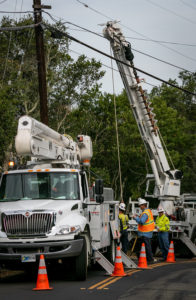 "Every pole out here is changing to a bigger pole, and all the wire is changing out to tree wire, which is more fire-resistant – It's coated, so if a branch touches it, it won't catch fire," explained Alvah General Foreman Adam Navarro, a four-year member of IBEW 1245. "Once we have enough poles done in a section, then we pull in the new wire."
While the work is nothing new for the IBEW crews, the job wasn't without its share of challenges. But Navarro was confident that the members he had working on the job were up to the task.
"We're pulling out the old wire, which is really small, and can be dangerous, but I've got good guys who recognize any potential dangers," he said. "Pulling dead wire next to hot wire is routine for us — but that doesn't make it any less dangerous. That's why we always take the time to look at every pole, keeping an eye out for any obstruction, anything that could hang up wire."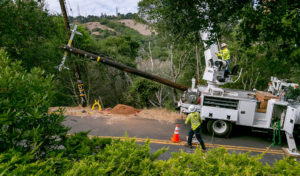 Navarro observed that on this particular job, nearly every pole had an angle – which meant the wire was curved like an S, all the way down to the end, and for crews that are accustomed to pulling straight wire, that curvature can present something of a challenge. He also noted that the four Alvah crews he had on the job that day were all working on narrow, winding back-roads with steep terrain and unpredictable vehicle and bike traffic – none of which is particularly conducive to utility work.
"We want to be good to the people driving in the neighborhood," said Navarro, "but at same time, we've got to do our jobs."
In order to keep the crews – as well as the residents – safe, traffic control from UTCS was also sent in to direct the cars around the line crews and their trucks.
"Gotta keep your head on the swivel, ducking the traffic while maintaining a safe work zone," said UTCS Flagger Nicholas Ramirez, who joined Local 1245 about a year ago and clearly takes his work very seriously. "We're working between 10- and 12-hour days, so it's long hours… but you've got to stay on your toes."
Feeling Connected
Navarro is clearly brimming with union pride, remarking on the many benefits that the IBEW affords him and his crew members.
"Whenever I'm working next to someone who's also IBEW, I can trust that they have the right skills, because they're gone through the union apprenticeship that taught them what I know," he said. "It's a brotherhood, so you really feel connected to the guy working next you. That camaraderie, it's a good feeling. And we have great benefits too! The union looks out for our best interest, and it's nice to know were being taken of on that level as well."
Despite being new to the union, Ramirez the flagger is already recognizing the value added with IBEW representation.
"They have decent benefits here," he said. "I notice them starting to kick in, and I like that. So, that's pretty good so far."
Photos by John Storey