Of all the remarkable and dedicated unionists to ever grace the halls of IBEW 1245, Senior Assistant Business Manager Ray Thomas is sure to go down in history as one of the best of the best.
Thomas learned about the value of the union from a young age. His dad, Lee Thomas Jr, was active in 1245 for many years, and even served as union president on two separate occasions, from 1963-67 and again from 71-74. As soon as the younger Thomas had an opportunity to join the workforce, he secured his very own 1245 union card.
The year was 1983, and Thomas was on a summer break from junior college when he first hired on as a climber with Asplundh Tree Expert Company, and, unsurprisingly, wasted no time becoming a shop steward and was eventually promoted to foreman. A few years later, he went to work as utility arborist for the City of Redding Electric Utility, also a 1245-represented position. He worked there for 11 years, serving as a shop steward as well as Advisory Council member (a victory that he attributes to his father, who campaigned aggressively on his behalf).
In 1998, then-Business Manager Jack McNally brought Thomas onto the IBEW 1245 staff as an organizer. Those early days with the union will be forever etched in Thomas' mind.
"I have lots of fond memories of working at Local 1245, but one of the best is when my father drove to unit meetings with me during my new assignment in Northern Nevada, less than a year before he would unexpectedly pass away," Thomas recalled, grateful to have had that time together with his dad.
Over the next two decades, Thomas would work with Local 1245 members in nearly every corner of the union's jurisdiction, as an organizer, business rep, assistant business manager and senior assistant business manager. He also earned his bachelor's and master's degrees while working for 1245, which is no small feat. He's well-known among members and reps alike for his unparalleled knowledge and support, as well as his extremely effective approaches at the bargaining table.
"Ray is as complete a package of a unionist that I've ever met. He is passionate, he is tireless, he is smart, and he is prepared. If Ray isn't the best negotiator who worked for Local 1245, he is tied for best," said IBEW 1245 Business Manager Tom Dalzell. "He earned his BA and a master's degree while working with us, and is a unique combination of empathy, intelligence, and education."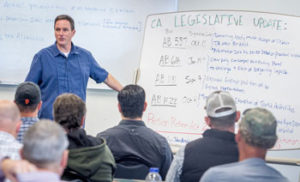 "I have never met anyone that would answer a question at 11pm on a Sunday as Ray has," said 1245 Business Rep Jaime Tinoco. "He's never left me waiting for an answer on anything, always acknowledging and respecting my opinions, good or bad."
"Ray always amazed me at how quickly he would respond to questions, either returning long, thorough answers via text (if he was unable to return my phone call at that moment), or a return call," echoed Business Rep Dominic McCurtain.
"Ray has always exhibited the best qualities of the union — intelligence, integrity, empathy and hard work," added Assistant Business Manager Al Fortier.
After a lengthy 36-year union career, including 21 years on staff at 1245, Ray Thomas retired from the union this summer. His colleagues have nothing but warm wishes for him in his retirement.
"I will always honor every moment I spent watching Ray kick ass at the bargaining table, his quick response to every long, long email I would send him, but most importantly his guidance and trust," remarked Business Rep Cruz Serna.
"He's been a friend over the years, never without a smile, a joke, and a laugh.  I will miss him," said Dalzell.
"People like Ray only come once every 50 years, and I'm glad that I had the opportunity to work and learn from him," said Tinoco.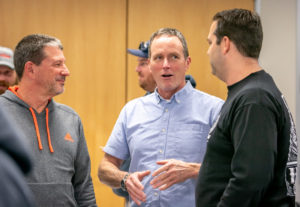 "I will certainly miss him as a union brother and coworker, but I wish him good luck in his retirement, and feel privileged to be able to call him my friend," said McCurtain.
"The standards that he's set will be hard to follow, but I feel confident that the experiences that we have shared with him will carry us forward." said Fortier, who will be filling Thomas' big shoes on the public- and private-sector side of 1245. "Ray, it's been a pleasure to work with you, and I wish you happiness and success in whatever lies ahead."
While Thomas will miss working with the shop stewards and staff at the local, he is looking forward to spending more time with his family, including his son Josh and brothers Lee and Jeff.
"I want to thank to Jack McNally for hiring me and allowing me to begin studies at the former National Labor College.  Thanks to Perry Zimmerman and Tom Dalzell for allowing me to finish my schooling at the NLC and then George Mason University in Virginia," said Thomas. "Thanks to all of the business representatives I worked with over the last 21 years, and thanks to [recently retired] Senior Assistant Business Manager Dennis Seyfer for always having my back."
 –Rebecca Band, IBEW 1245 Communications Director
---
Ray Thomas recalls his first brush with union organizing:
After junior college, and before becoming a Foreman with Asplundh, I welded steel and aluminum for Paraclipse out of Redding CA.  Paraclipse was a company that manufactured satellite dishes.  At Paraclipse, I made three close friends, brothers named Mike, Mark, and Matt Corbell.  Three excellent welders, and also the sons of Max Corbell, a long-time Local 1245 member and formerly a good friend and co-worker with my Father, Lee Thomas, at PG&E in Redding.

Gearing up for a large order of satellite dishes to China, the President of Paraclipse informed all three shifts of welders that if we could increase production on order to fill the Chinese order, he would add an additional piece rate to our hourly rate for each component welded.  We met his goal, only for him to renege on the piece rate offer several weeks later.   Along with a majority of workers at Paraclipse, we reached out to IBEW Local 1254 in order to seek representation.  The President of Paraclipse warned us that if we sought to go union, he'd shut the plant down.  Many of us signed recognition cards regardless, and the President of Paraclipse shut the doors before we could get to an election.